Each year, FastBridge starts with a new school year. After the Master Account Administrator has accepted the End User License Agreement, there are three tasks that need to be completed before you can use FastBridge for the new year. A Master Account Administrator or District Manager needs to:
Set the screening periods for the new school year.

Add the assessments for the new school year.

Upload a new roster for districts who use manual rostering, or resume the sync for districts with a rostering integration.

This article addresses setting up the district screening periods at the beginning of a new school year. For more information on managing screening periods during the school year, see Managing Screening Periods.
To access the setup page for default screening periods:
Go to the Master Account Administrator or District Manager tab.

Under Assessment Info, select Default Screening Periods.
You have the option of using, or starting with, your screening periods from the previous year. Clicking Yes will load the previous school year's periods into the setup page. Clicking No allows you to add the screening periods manually.
Note: You must add at least three periods. You can edit the dates later if you need to, or add up to two additional screening periods.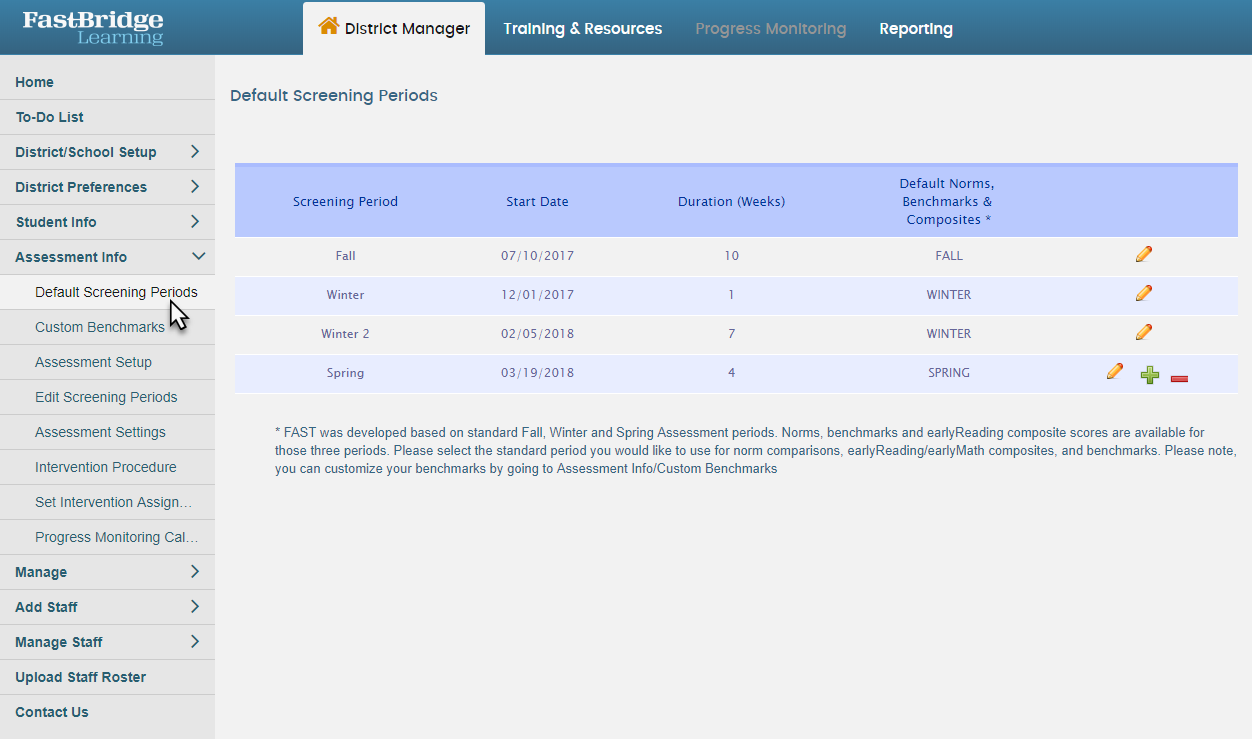 After entering the default screening periods, or making any desired changes, you will need to save each row by clicking on each green check mark.
Although FastBridge supports up to five default screening periods, we recommend using no more than three screening periods.
Making Adjustments to the Default Screening Periods
Each default screening period has its own row. To edit a screening period, click on the pencil.

You can change the name, start date, duration, and default benchmarks for the period.
Screening Period - This is the name of the period, and how it will appear in FastBridge.
Start Date - This is the day the new screening period opens. Testing in previous periods will no longer be available, once a new period has opened.
Note: You must choose the date from the calendar and the screening periods must be in chronological order.
Duration - This is the number of weeks allowed for universal screening. We recommend four weeks.
Note: Tests taken outside of this duration will not be included in local norms, nor will their scores be color coded by percentile ranking. Where color coding is used, scores taken outside of this duration will be gray.
Default Norms, Benchmarks and Composites - These are the norms, benchmarks and composites used for this period. FastBridge provides three default sets of norms, benchmarks & composites: Fall, Winter and Spring. Typically, you would choose the one closest to the start date of the period you are editing. Although you can't customize the norms or composites, you can customize the benchmarks for individual assessments by going to Custom Benchmarks.