End of School Year Guidance
At the end of the school year, your Master Account Administrator and District Managers will be responsible for selecting a rollover date; this is the date that your FastBridge instance will transition to the next school year.
It is critical that you do not change your district's Default Screening Periods until after rollover. If you change them prior to the rollover, your data will lose all local norms. This cannot be fixed after the rollover.
Reporting
Once rollover has occurred, the data from the previous school year will be archived and will only be accessible through some reports. See Accessing Data from Previous Years for more details.
Historical data will be available through the Student Data Download and as line item or summary data in some reports, but if you want to retain graphical reports with tables, graphs and color-coded scoring info, you should retain those reports by printing or saving them as a PDF before your selected rollover date.
Before your School Year Rollover occurs, consider completing the following items:
Print or save reports to retain group graphical data:

Impact Report

Group Growth Report

Group Screening Report

If you will be analyzing student data during the summer for placement before fall screening, print or save these reports:

Screening to Intervention Report

Individual Skills Report

Group Skills Report

If you have students for whom it will be important to have detailed score history, print or save reports for specific students' cumulative files:

Individual Benchmark Report

Progress Monitoring Report

Family Report

Student at-a-Glance Report
Rollover Guidance
Rollover Date Selection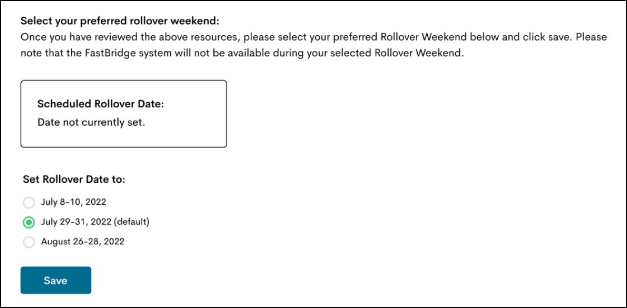 Master Account Administrators and District Managers are responsible for the rollover date selection and new school year setup. If a rollover date is not selected, your district will be rolled over on the default date: July 29-31, 2023.
For more information, visit Rollover Selection and Overview.
Master Account Admin Change
If the Master Account Administrator (MAA) for your district will be different for the next school year, please send an email to help@fastbridge.org with the name and email address of the new MAA. FastBridge will make the change to the MAA account at the time of the school year Rollover and inform the new MAA of their login credentials.
Following the School Year Rollover
Once the rollover is complete, the following steps must be completed to set up your FastBridge site for the new school year before any teachers, staff, or students can use the platform:
Screening Periods must be set. For more information, refer to

this article

.

Assessments must be added. For more information, refer to

this article

.

A new roster must be uploaded with the new school year enrollments, or for districts using an integration, the sync settings must be turned on once your SIS is operating in the new school year.
FastBridge does not automatically promote students to the next grade level. At the end of each school year, the rosters are cleared and the student data is archived. All student data is always retained and available via the Data Download report for Specialist, School Manager, District Manager, and Master Account Administrator users.
Note: Iowa districts as well as districts integrated with another roster service, such as DnA or Clever, will not manually upload a roster.