Screening periods will open on the date specified when creating the period and will remain open until the start date of your next screening period.
You can check what the screening dates are by hovering your mouse over the screening period name on the main assessment page, a box with the screening period dates will appear.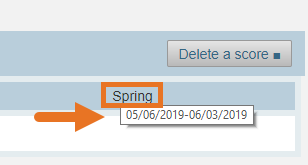 The "main assessment page" is the screening page for the individual assessment. FastBridge track Reading is not an assessment. They are a convenient way of gathering different assessments onto the same page for screening. To get to the actual assessment page, you have to expand the "All Assessments" link and select an assessment from the list below it. From these pages, you can hover and find your screening period dates.

What does Duration mean?
When setting up screening periods, you also will decide what your duration should be. This is the window of time in which the majority of your students will be assessed. Data Collected during this duration will compile into your normative data.

A screening period will remain open until your next screening period starts. After the duration has passed any assessment taken will not factor into local normative data.
The reason for this is because students who take an assessment at a later date than the majority of their classmates, in theory have been exposed to more education and instruction on a particular topic. This has the likelihood of throwing off true data values for normative information.
Example
Majority of your students are assessed in the first week of January for their winter screening period. In the beginning of April, a new student transfers into your classroom from another school in the district. You want to screen them to help identify their strengths and weaknesses, however, it is April 6th. This student has been exposed to more instruction at the point of the assessment than the rest of your students, and receives a higher than average score.
Normative data, or data that characterizes what is usual in a defined group of students in a specific period of time, would not appear accurately if we include this student. For this reason FastBridge uses duration periods to collect normative data, but will also allow you to screen after the duration is over without disrupting data validity.