Click on the Training and Resources tab on the Top Navigation bar and select 'Benchmarks and Norms'

From here you can select the Benchmarks or Norms information.
Note: There is a resource at the top 'Download Use & Interpretation Guidelines' that provides information about score interpretation .
Here is a view of the Benchmarks menu.

Here is a view of the Norms menu.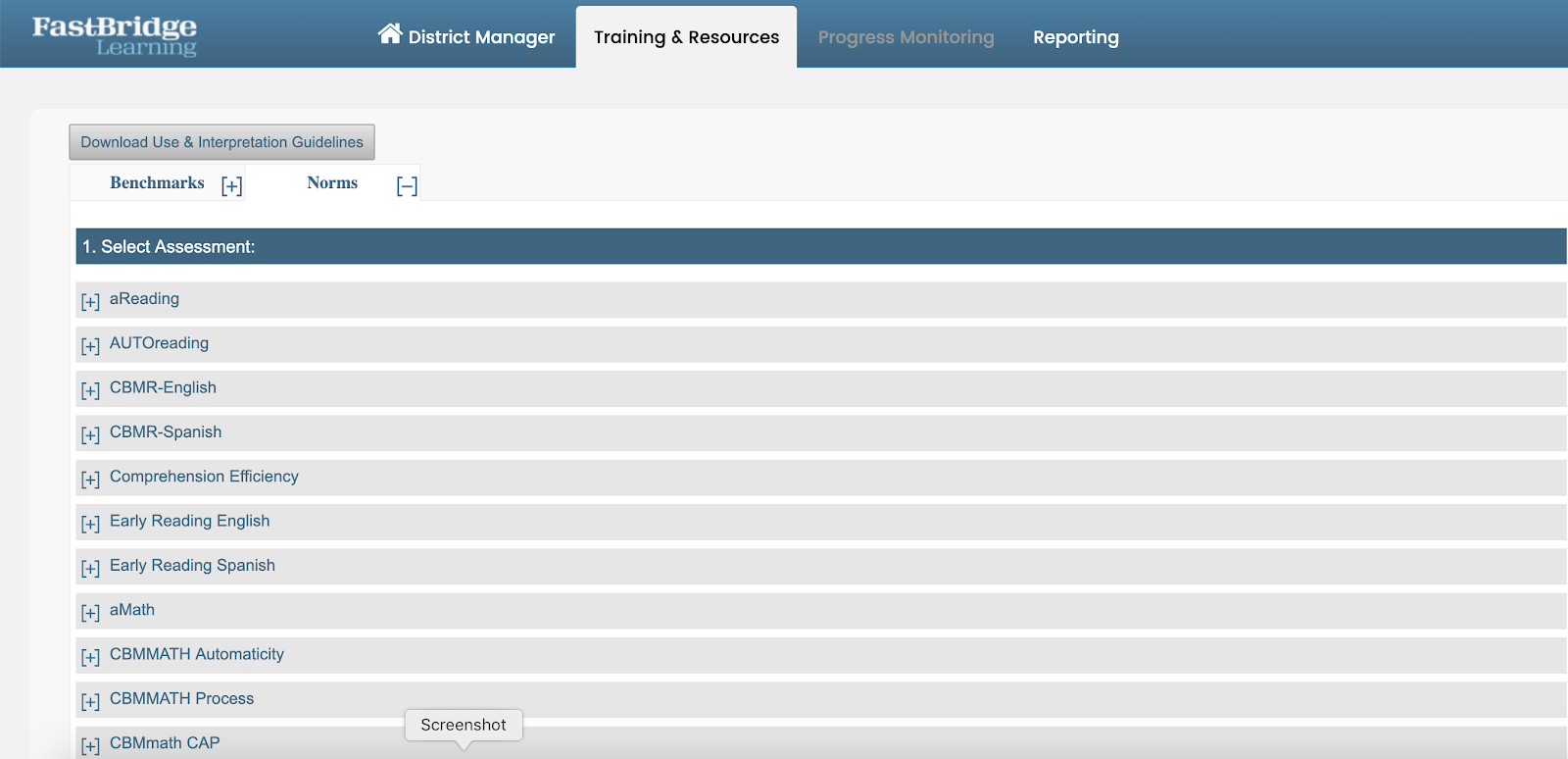 Both the Benchmarks and Norms menus will generate tables displaying specific scores. Here is a sample earlyReading Benchmark table. Note that earlyReading and earlyMath Composite scores are at the bottom of their respective Benchmark tables.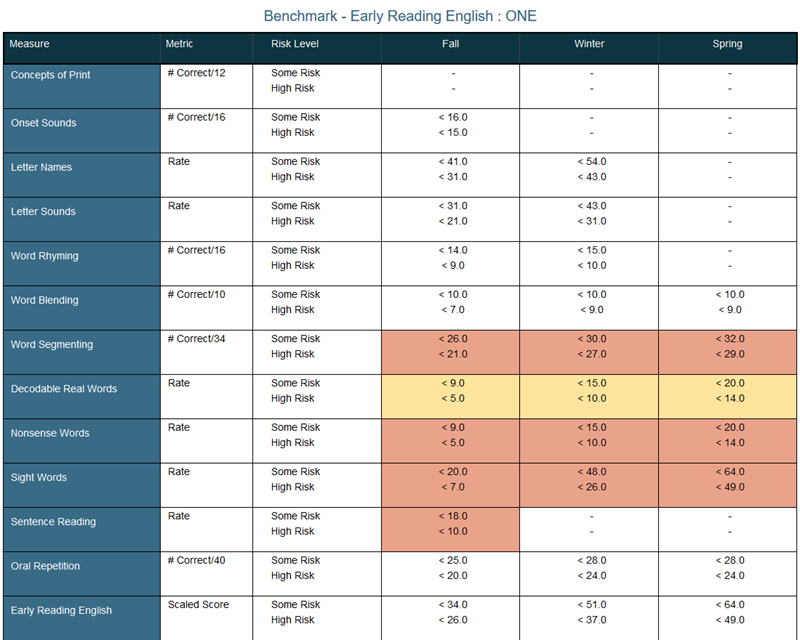 Benchmarks (ranges of scores used to identify risk) and Norms (percentile rankings of local and national populations) can be used to provide perspective on your students' FastBridge scores. Benchmarks are set by the FastBridge Research Team to provide indicators of a student's likelihood of meeting a later learning goal. FastBridge uses four Benchmark descriptors in reports, including (a) High Risk, (b) Some Risk, (c) Low Risk, and (d) Advanced. The Advanced indicator is not available for all assessments and can be renamed or removed by the District Manager. The FastBridge default Benchmark settings are based on the national FastBridge norms and set based on scores corresponding to the values in the following percentile ranges.
Below the 15th percentile: High Risk

15th - 39th percentiles: Some Risk

40th - 70th percentiles: Low Risk

71st percentile and above: Advanced
Norms are the percentile rankings of scores collected from FastBridge users up through the last school year. The National percentile rankings match scores to their corresponding percentile ranking in the norms. Once a test is taken, the national percentile can be determined immediately, and it does not change as more students take the test. The FastBridge national norms were updated in 2019 to provide representative samples in relation to race, language, and socioeconomic status (SES). Date ranges for when the national norms data were collected are:
Fall – August 1 through October 30

Winter – December 1 through March 1

Spring – April 1 through June 30
Data collection periods for assessments still in LAB may vary slightly.
Local Norms
FastBridge provides up to three types of local norms, including class, school, and district. Local norms will be available once at least 70% of the students in the group (e.g., class, school, or district) have completed the assessment during a screening period. Requiring 70% or more of students in the group ensures that there are enough scores for the local rankings to be valid.