By default, FastBridge uses its current benchmarks to determine the risk cut-off scores for each assessment. District Managers can individually adjust the default benchmark cut-off scores for each assessment. Setting custom benchmarks will override the system defaults, and use your custom benchmarks to determine risk levels in your district.
To set Custom Benchmarks for your district, go to Home Page > Assessment Info > Custom Benchmarks.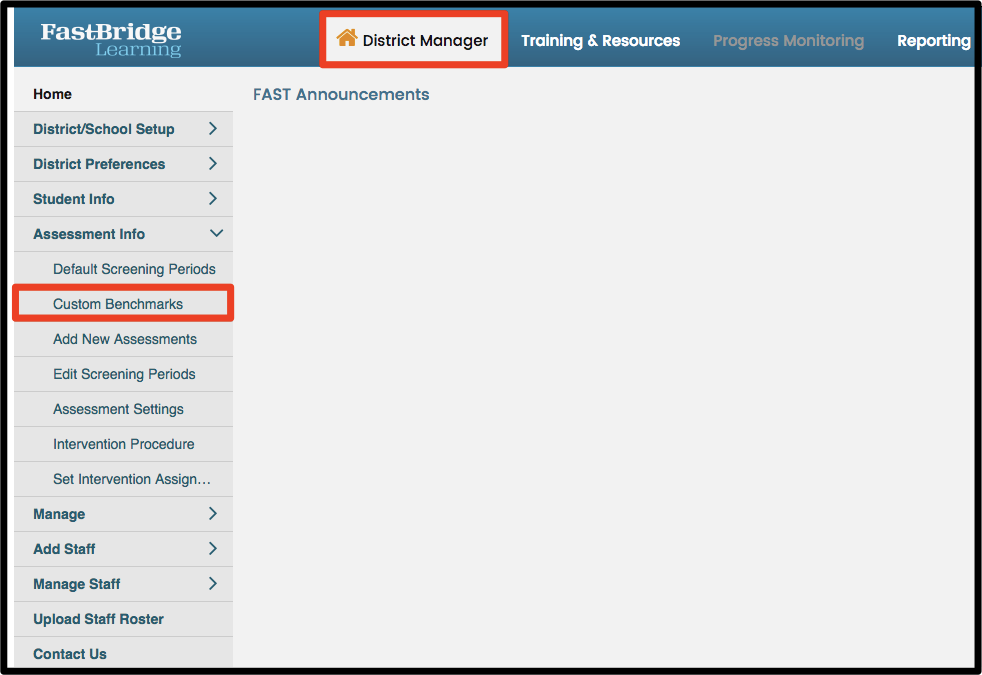 Select the assessment you would like to adjust.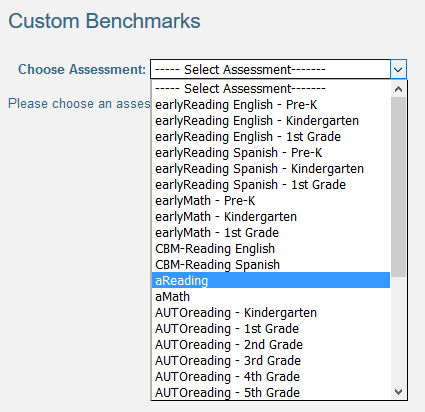 Current benchmarks for each risk level will be displayed. If there are no benchmarks for a screening period, it means we do not currently have benchmarks for that period or grade. Default benchmarks are listed below the editable area (not shown).

Selecting a period from the drop-down will load the FastBridge Fall, Winter, or Spring default benchmarks into the assessment.
Please Note: Moving the drop-down away from "- Benchmark -" will load default settings into that period. If you currently have custom settings that you want to keep, click "Cancel" at the bottom of the page to reload your custom settings, or navigate away from the page without saving.

To add custom benchmarks, enter the cut-off scores you would like to use for each risk level in each screening period.
Low Risk: Any score above the value will be represented with a White Star which is the College Pathways Benchmark. (This is not available for all assessments)
Some Risk: Any score below Some but higher than High risk will have one exclamation point.
High Risk: Any score below High risk will have 2 exclamation points.
Once you have made all changes, click "Save" at the bottom of the page.