The FastBridge progress monitoring goal is determined during the initial plan setup and is the expected student performance by the end of the progress monitoring plan. The goal is calculated based on the starting score, ROI, and the number of weeks until the end of the monitoring schedule.
Start Score and Screening Score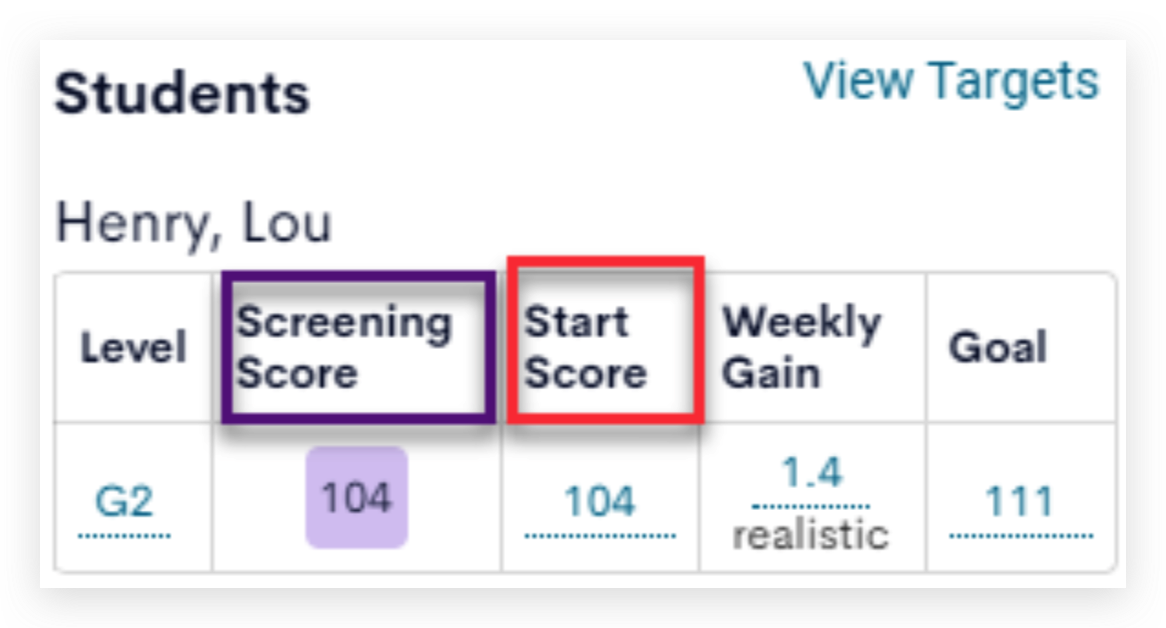 The Start Score is typically the same as the screening score and is adjusted for expected growth if the Screening Score* occurred more than two weeks prior.
If there is no screening score, then the screening form should be administered prior to creating the progress monitoring schedule.
Goal Line
FastBridge uses Adjusted start point and goal point in the progress monitoring graph. In order to make sure that a student's progress monitoring goal is appropriate, the FastBridge system automatically adjusts progress monitoring goals to reflect the easier level of the progress measures. The method used to make these adjustments is called linear equating and the adjustment usually ranges from 1-30 points.
The most recent screening score is used to establish the initial level of performance. That initial level is used to estimate the start and end points of the goal line. The default setting is to use slight adjustments by the FastBridge system after the progress monitoring set-up is submitted. This ensures that goals are set on the same scale as the grade-level screening passages.
As a result, students who are on-track to meet their progress monitoring goal are also on-track to meet their screening goal. This goal-line adjusting happens for both grade-level and off-level monitoring but is not visible on a Student Progress Monitoring Report.
FastBridge's Adjusted Goal Line provides a more accurate measure of the student's performance on CBMreading Progress Monitoring and helps teachers determine whether interventions are truly working and reaching their goals.