FastBridge progress monitoring goal line, the start point and end point (goal) can be adjusted for passage difficulty. The difficulty level of the FastBridge screening passages is slightly higher than the progress monitoring passages. To account for this difference, FastBridge uses Adjusted start point and goal point in the progress monitoring graph. In order to make sure that a student's progress monitoring goal is appropriate, the FastBridge system automatically adjusts progress monitoring goals to reflect the easier level of the progress measures. The method used to make these adjustments is called linear equating and the adjustment usually ranges from 1-30 points.
The most recent screening score is used to establish the initial level of performance. That initial level is used to estimate the start and end points of the goal line. The default setting is to use slight adjustments by the FastBridge system after the progress monitoring set-up is submitted. This ensures that goals are set on the same scale as the grade-level screening passages. As a result, students who are on track to meet their progress monitoring goal are also on-track to meet their screening goal. This goal line adjusting happens for both grade-level and off-level monitoring.
We have functionality to choose which goal is used on the graph:
-FastBridge Goal(recommended to account for difficulty level of passages)
-Standard Goal- the goal line will match what is selected in the group setup page
-Standard goal for decision making, but display both goal lines. (Both are displayed on the graph and the progress monitoring scores are compared in the table to the unadjusted goal)
HOW TO SELECT THE GOAL LINE
During Group Setup: Just select the Goal Line option you desire
After set up, using the Edit Group page: Follow the steps below
1. Make your selection; Adjusted, Unadjusted or Both
2. Click "Update"
3. Click "Save Changes" on bottom left of the Edit Group page.
See FastBridge fact attached for more information on the Adjusted Goals.
When 'Both' is selected, you can view both goal lines on the progress monitoring graph. The score information will be compared to the unadjusted goal line. See image below for Jake. He is a 4th grader progress monitoring at Level G3. The selected goal is the 4th grade benchmark, 150. Because he is using the G3 forms, he should be at 161 wcpm to reach that goal. This is displayed on the graph with two separate lines.
Unadjusted Goal:

Adjusted Goal: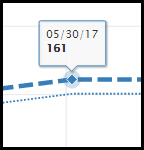 FastBridge's Adjusted goal line provides a more accurate measure of the student's performance on CBMreading progress monitoring and help teachers to determine whether interventions are truly working. Click here to see Equated CBM Reading scores.