The behavioral progress monitoring component of FastBridge is called the Direct Behavior Rating (DBR). You access an existing DBR group by going to Behavior PM, under Progress Monitoring.
To setup a new DBR, go to Create / Add to Groups.

You select a student the same way you would for any other progress monitoring group. See Setting Up a Progress Monitoring Group. After selecting the student, click Create New Behavior Group.

From here, you can set up the parameters for your group.
1. Select a start date. Unlike regular progress monitoring groups, only the current week is available for progress monitoring. You can't enter data for a prior week, so there's no reason to set the start date prior to the current week. You may, however, want to begin progress monitoring at some point in the future.
2. Select the behaviors you want to monitor. FastBridge allows up to three behaviors in any one category. You will be rating the behaviors on how frequently they occur during the observation period.
- Behaviors listed in BOLD are the most common, and behaviors we recommend using for DBR.
- Behaviors listed with a flame

next to them are rated in frequency AND intensity.
3. You must give the group a name, but this does not appear anywhere. DBR Groups are listed by the student's name.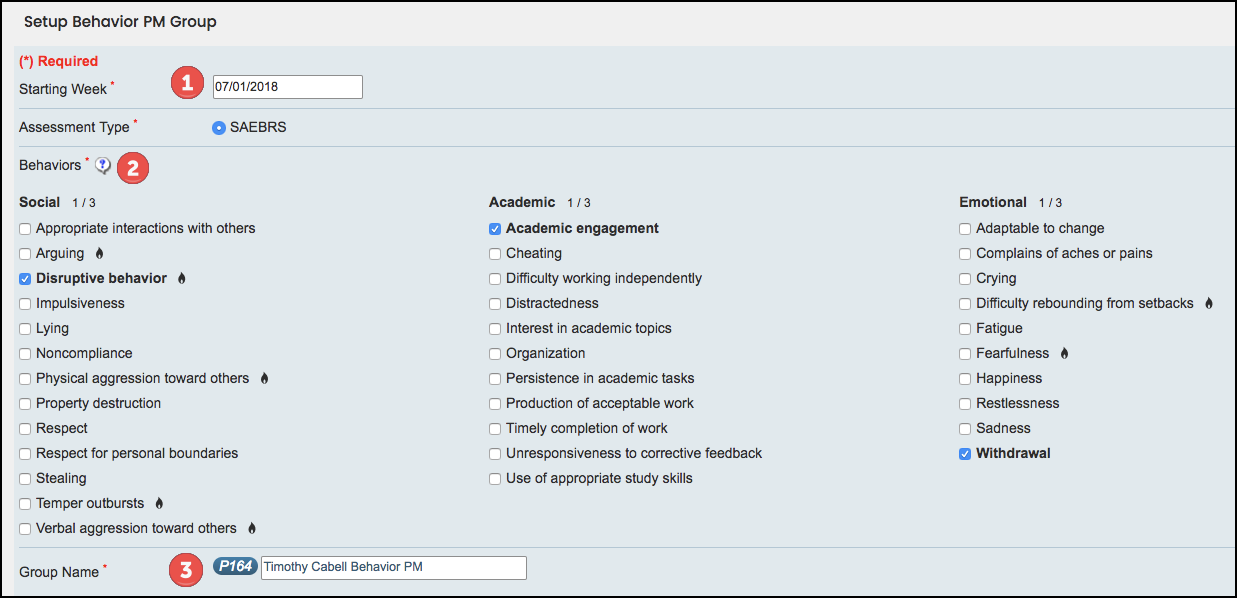 The next step is to select the frequency and schedule for student observations. We recommend scheduling periods during times when the behavior is most likely to occur. Ratings are based on the frequency (and possibly intensity) of occurrences of a particular behavior during the scheduled observation period. If you do not fill out the assessment during the week it is available you can not get back to it.
A "rating period" is a period, day and time for observation. Although you can change the number of occasions (1) later, i.e. from every week to every other week, you will not be able to add additional rating periods (2) once the group is set up. You also will not be able to delete a DBR group that has scores in it, unless you delete the scores. Try to allow as many rating periods as you might use. It is better to have too many options (rating periods) here than too few.

Finally, you will need to set goals. The screening score (1) will not automatically populate from the most recent SAEBRS screening as it would with other assessments. SAEBRS and DBR are separate entities. Each behavior can have its own starting week (2). Change the 'Start' to 1, a number is required to be entered to save the group. Once the group is created you can use the first observation as the 'Start' and go back to update later. Start score (3) and goal (4) can be edited later. The goal should be an end of year goal. We do not have Benchmarks or norms for DBR, because of the subjective nature of behavior. Clicking Save, will save your group.

Any staff member with access to the student can fill out an observation by selecting the timer for the appropriate rating period. Different staff members may be assigned different observation times that coincide with their classes. Once a period has been assessed, it is no longer available to other observers.