District Managers and School Managers have the ability to add, and remove, assessments by school and by grade. To add assessments, go to the District Manager (or School Manager) tab, and select Assessment Setup from under Assessment Info. For School Managers, the drop-down list will only have one school.
Please keep in mind that selecting "FASTtrack Reading" or "FASTtrack Math" on the Assessment Settings (only available to District Managers) page will result in an automatic population of our recommended assessments.
For District Managers, the default view shows how many of the total number of schools in the district have access to a particular assessment. In the example below 5 out of 7 schools have KG access to aReading. In this case, only 5 of the 7 schools in the district have KG. All schools with KG classes do have access to aReading for KG. To view or add assessments to a specific school, select the school from the School: drop-down list.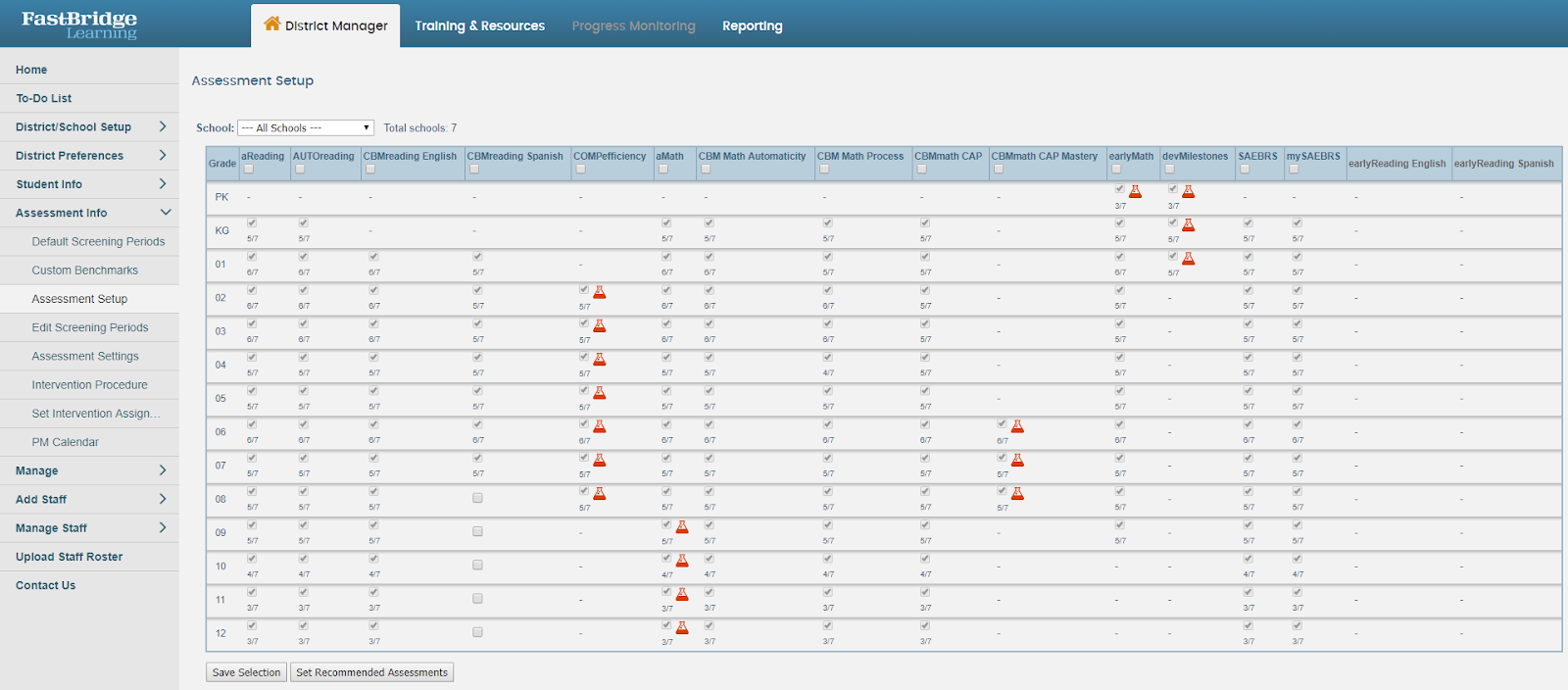 For School Managers, only their school is shown. There is a checkmark for each assessment and grade with access to the assessment. Open boxes mean the assessment has not been made available to that grade. Once you have checked box(es) click 'Save Selection'.

The typical FastBridge setup includes assessments at the grade levels for which grade-level tests are available. Assessments in LAB are not added by default but may have been added by your District Manager. For a list of the assessments and their available levels, see Assessments by Level.
Off-Grade Level Testing
To use an assessment off grade level, two things need to be in place.
The school needs to include the desired grade level of the test you want to use. If the grade is not currently listed for your school, please contact

FastBridge Customer Support

to have the grade added.

The assessment needs to be added to that grade.
Not all assessments are available for off-grade level testing.
Adding Assessments
To add an assessment, whether on or off-grade level, check the box in the grid that matches the desired school, assessment, and grade, then click Save Selection. Clicking the checkbox under the assessment name will add the assessment to all available grades.
Once an assessment has been added, it will appear in the list of assessments available from the Screening tab for the applicable schools, grades, and teachers. If the assessment includes progress monitoring, it will also be available as an option when creating new Progress Monitoring groups.

Note: Once added, assessments cannot be removed from this screen. For information on how to remove an assessment from a grade or school, see Editing Individual Assessments - Screening Periods and Removing From View.
Assessment Recommendations
| | | |
| --- | --- | --- |
| Assessment | Consider Enabling at Grades | Explanation |
| aMath | 2-12 | |
| aReading | 2-12 | |
| AUTOreading | 4-12 | |
| CBMmath Automaticity | 1-12 | Needed in 2-12 for FASTtrack Math and may appear as Progress Monitoring recommendation in Grade 1 |
| CBMmath CAP | 1-12 | May appear as a Progress Monitoring recommendation on the s2i-M |
| CBMmath CAP Master | NA | Won't appear as a recommendation for Progress Monitoring on the s2i-M |
| CBMmath Process | NA | Won't appear as a recommendation for Progress Monitoring on the s2i-M |
| CBMreading English | 1-12 | Needed for Progress Monitoring in upper grades |
| CBMreading Spanish | For English Learners or Multilingual Programs | Can leave it disabled and come back here to enable it upon request from teachers or administrators |
| COMPefficiency | NA | Won't appear as a recommendation for Progress Monitoring on the s2i-R, and it's in Lab Status (as indicated by the beaker) |
| devMilestones | NA | Is a Lab status measure |
| earlyMath | PK-5 | Assess lower-performing learners in higher grades |
| earlyReading English | PK-5 | Assess lower-performing learners in higher grades |
| earlyReading Spanish | For English Learners or Multilingual Programs | Can leave it disabled and come back here to enable it upon request from teachers or administrators |
| mySAEBRS | 2-12 | |
| SAEBRS | K-12 | |