District Managers can transfer students to different schools in the district in a few simple steps.
Note: Do NOT delete the student from the roster and add them back at the new school. This will NOT transfer the scores. If the student has already been removed from the roster, you MUST perform a full school/district roster upload to restore the scores.
1. Go to Student Info > View Roster.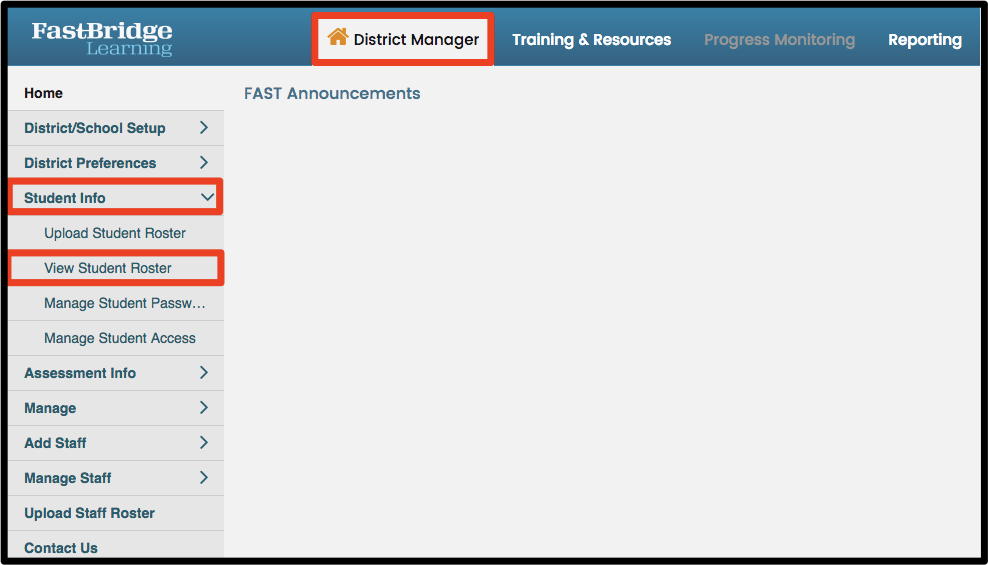 2. Search for the specific student in the "Search" field on the right hand side of the screen.
3. Click on the student row so it becomes highlighted, then click "Edit".

4. Make edits for new school and teacher information
5. Check the student record line to be sure everything has been completed properly and Click "Update".

What happens to a student's data when they are moved to a different school?
If a student transfers to a different school in your district, screening and progress monitoring data will follow the student to the new school. The data will no longer be available to the previous school
The student's ID will need to stay the same, when transferring in a roster upload, for the data to follow. Changing the student's ID will cause a duplicate account to be created.

Note: Data will only follow a student who changes schools within a district. If a student transfers out of district, even if the new district uses FastBridge, the data will not be available to the new school in the system.