The Detailed Group Report will show you the scores for each of the earlyReading or earlyMath subtests as well as the Composite score. All scores will be color-coded to display the students' percentile ranks as compared to the local grade-level school norms.
How to access the Detailed Group Report:
1. Go to the Reporting tab.

Locate Detailed Group Report > Click assessment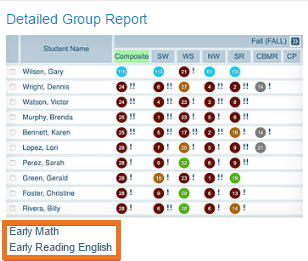 2. Go to the Screening tab.
Select earlyMath or earlyReading screening page
Select Detailed Group Report from the top left of the page

How to interpret the Detailed Group Report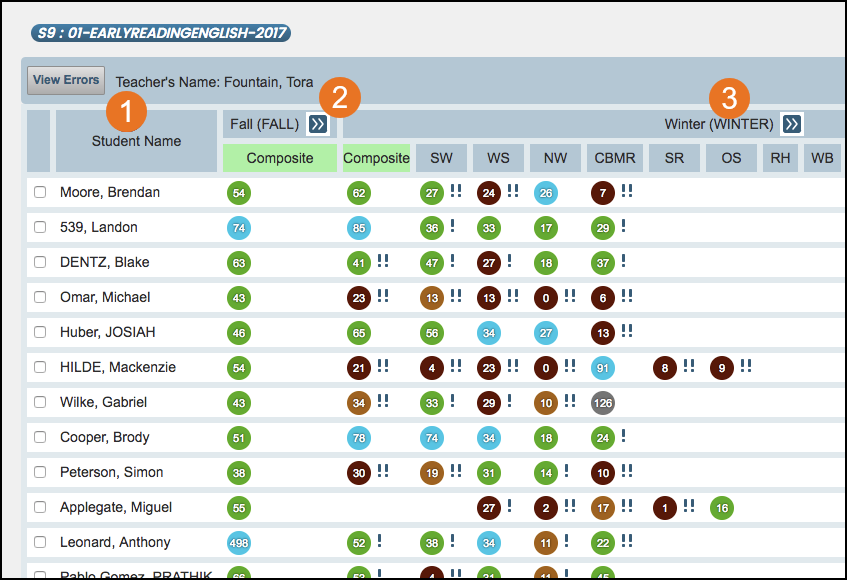 Student name

Previous screening periods- lists composite score. Click on the arrows ">>" and the screening period will expand to display the individual sub-tests

The current screening period defaults to be expanded to list all sub-tests completed and composite scores. Color coding is based on school percentiles with risk-level symbols displayed.

Risk level benchmarks for each screening period composite and sub-tests (see below)

Additional functions of the Detailed Group Report:
The detailed group report also allows you to view the errors that each student made on the subtests. The errors will display at the bottom of the report, under the Risk Benchmarks.
Click the box next to each student's name for whom you would like to view errors.

Click the "View Errors" button at the top left of the screen.

View the errors at the bottom of the page. The errors will be separated into the individual subtests in which they occurred.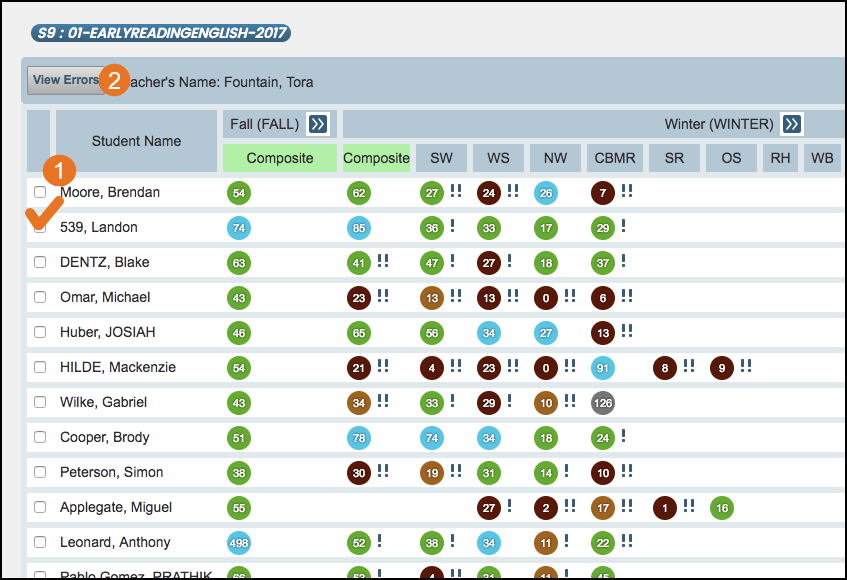 There is a Visual Convention guide at the bottom of the page that will give you a breakdown of the screening scores colors by percentile. These color codes refer to the school (grade) norms.
All scores will be color-coded to display the students' percentile ranks as compared to the local grade-level school norms. If a student tests outside of the district's Default Screening Period, then they will not receive local norms and scores will be gray