The Impact Report will allow you to compare the risk levels of students in your class or grade.
How to access the Impact Report:
Go to the Reporting tab

Locate Impact Report > Select assessment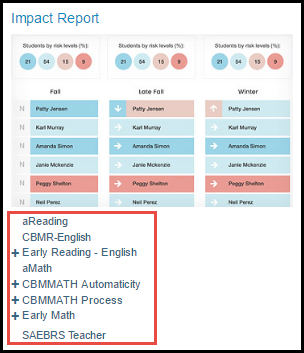 ** The + indicates a drop-down to select a specific sub-test for the assessment
How to interpret the Impact Report: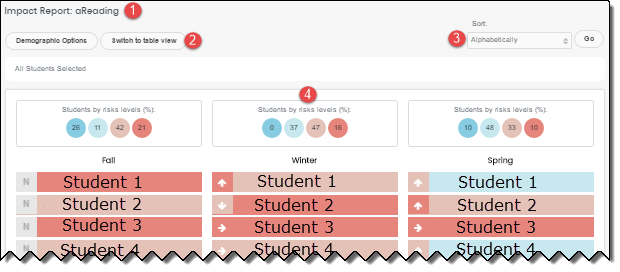 1. Assessment
2. View options
- Filter by demographics
- Switch to table view- List of students and their scores for each screening period (see below)
3. Sorting options
- Alphabetically
- Low to High Risk
- High to Low Risk
4. Student and class score information
- The box at the top lists the percentage of students at the respectable risk levels (see legend below for reference)
- Each student is listed and color-coded based on their score and risk level. The arrows represent their growth from one level to the next, if applicable. (See legend below for reference)
5. Report Legend- The color codes are available at the bottom of the screen as you scroll down. Information on the arrows is only available at the very bottom of the report.

Table View: