Teachers can view their students' SAEBRS and mySAEBRS scores in the Group Screening Report teacher view. Both the teacher (SAEBRS) and student (mySAEBRS) scores are displayed in this same report. This report offers teachers the choice to view both the SAEBRS/mySAEBRS total score as well as the subscore totals or view one subscore at a time.
How to Access the SAEBRS/mySAEBRS Group Screening Report for Teachers:

Navigate to the Reporting tab.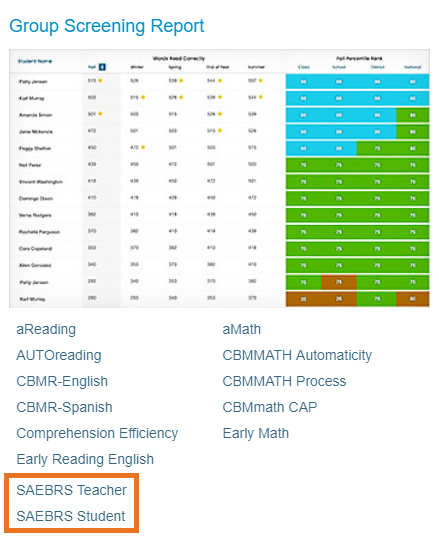 Go to the Group Screening Report and choose either SAEBRS Teacher or SAEBRS Student.
The report defaults to the current/most recent screening period, displaying all subscales. To view a specific subscale, click All SubTest, then select the desired assessment to view.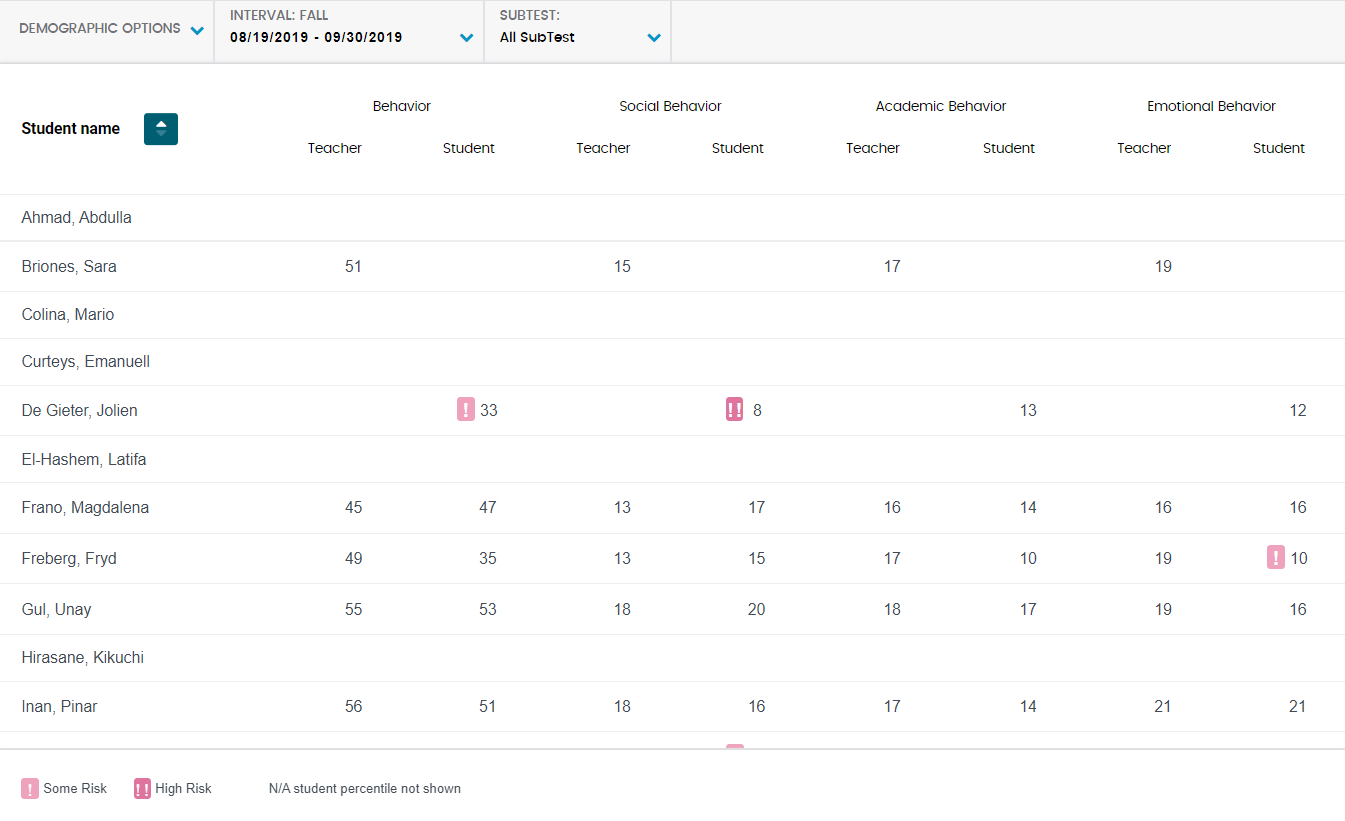 The scores show each student's total for the subscale or total scale. Additional report views include:
DEMOGRAPHIC OPTIONS - Sort by demographic

INTERVAL - Displays the assessment period

SUBTEST - All or one specific subtest
How to Interpret the SAEBRS/mySAEBRS Group Screening Report:
Due to variations in typical and normal behaviors expected of children across the U.S., there are not any norms provided for SAEBRS or mySAEBRS. There are benchmarks that indicate whether a score indicates risk for behavior problems.
SAEBRS score ranges and descriptions are shown below.
| | | | |
| --- | --- | --- | --- |
| Scale | High Risk | Some Risk | Low Risk |
| Total | 0 - 23 | 24 - 36 | 37+ |
| Social | 0 - 7 | 8 - 12 | 13+ |
| Academic | 0 - 5 | 6 - 9 | 10+ |
| Emotional | 0 - 11 | 12 - 15 | 16+ |
How risk should be defined depends on the specific sub-scale. Here are descriptions of each type of risk:
Risk for social behavior problems – student displays behaviors that limit his/her ability to maintain age-appropriate relationships with peers and adults.

Risk for academic behavior problems – student displays behaviors that limit his/her ability to be prepared for, participate in, and benefit from academic instruction.

Risk for emotional behavior problems – student displays actions that limit his/her ability to regulate internal states, adapt to change, and respond to stressful/challenging events.
For students with scores indicating overall risk in General Behavior, teachers can then review the subtest(s) with the lowest scores and compare these data to other information about the student. The combined information can then be used to identify the student's specific social, academic, and emotional learning needs.