Group Proctor accounts can be set up by District Managers or School Managers. They are intended for users who will be administering assessments in a group or lab environment. Group Proctors can not see scores or student data, but they can:
Manage Student Access, see Setting Up Student Login Access.

Administer screening assessments

Log in to FastBridge from multiple computers simultaneously

Delete scores
Optionally, if a District or School Manager has given the account permission to, Group Proctors can:
Access multiple schools

Administer progress monitoring assessments
Navigation
Just like Specialists, Group Proctors need to navigate into a Teacher view to access students. Access the desired classroom by navigating to the View As option in the master control bar. Then, select the desired school, grade, and teacher. Clicking Go will update the view to that of a Teacher but without the ability to see students.

Screening
Now that you are in Teacher view, you should see the available assessments among the navigational links on the left. From here, you can pick an assessment and click on the desired group (class). The first two digits of the group name indicate the grade.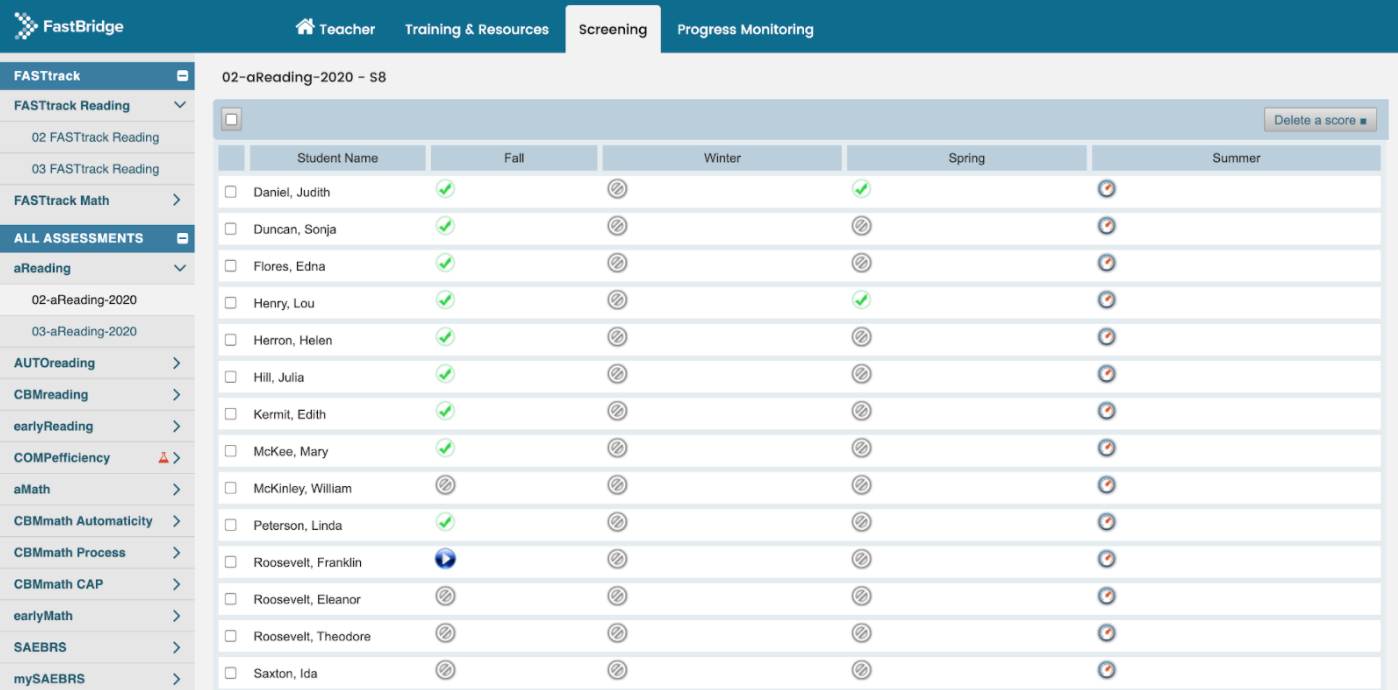 All students on that teacher's roster(s) will be listed on the Screening page. This screening page is for a sample class about to take their Summer assessments. Notice the timers in the Summer column. Clicking on a timer will launch the assessment. Once the student has finished their test, a green check mark will replace the timer. The gray circles with lines through them indicate the test was not taken but is no longer available.
Note: Make sure that you are clicking the timer on the same line as the student you are testing. If you notice that you have chosen the wrong student, stop the test immediately, delete the score, and retest the student as the correct student. FastBridge does not have a way to move the score to a different student. For more information on deleting a score, see Deleting a Screening Score.
Progress Monitoring
If your Group Proctor account is set up for progress monitoring, you can click on the Progress Monitoring tab in the top navigation bar. Academic groups display by default. Clicking View Behavior Groups will take you to the Direct Behavior Rating (DBR) module.

Use the filters at the top of the page to narrow down the list of students. Select Start Score to open the window to start entering data on Forms for the appropriate Progress Monitoring window. Check the boxes to the left of the students for whom you want to see the Progress Monitoring Chart. Then click on "PM Chart" in the upper right corner.