FastBridge has three basic views. A user's default view when logging in depends on the type of account they have. District Managers and School Managers default to Admin view. This article guides District Managers and School Managers through their default view. 
District Manager Navigation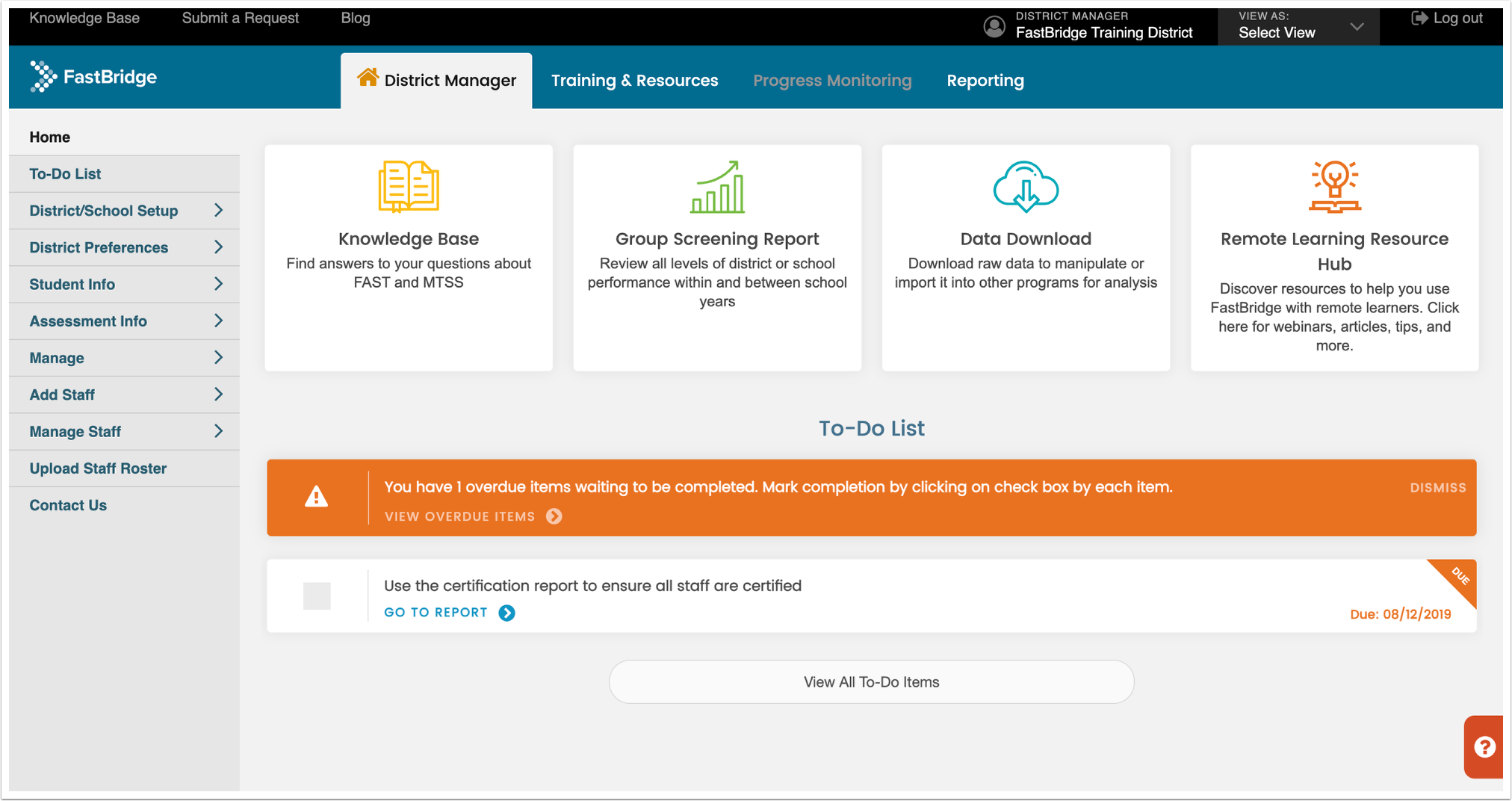 *School Managers do not have menu selections for District/School Setup and District Preferences.            All users have access to the Knowledge Base (articles and videos about using FastBridge), Support (to submit a customer support ticket), and our Blog ("Fast Insights").

  The right side of the black bar shows the district or school name, allows you to navigate to Specialist or Teacher view, and allows you to Log Out. For more information on navigating between views, see USER ROLES and VIEWS below.

  HORIZONTAL MENU Tabs determine what options are available in the Vertical menu. The District Manager (or School Manager) tab provides the main administrative options.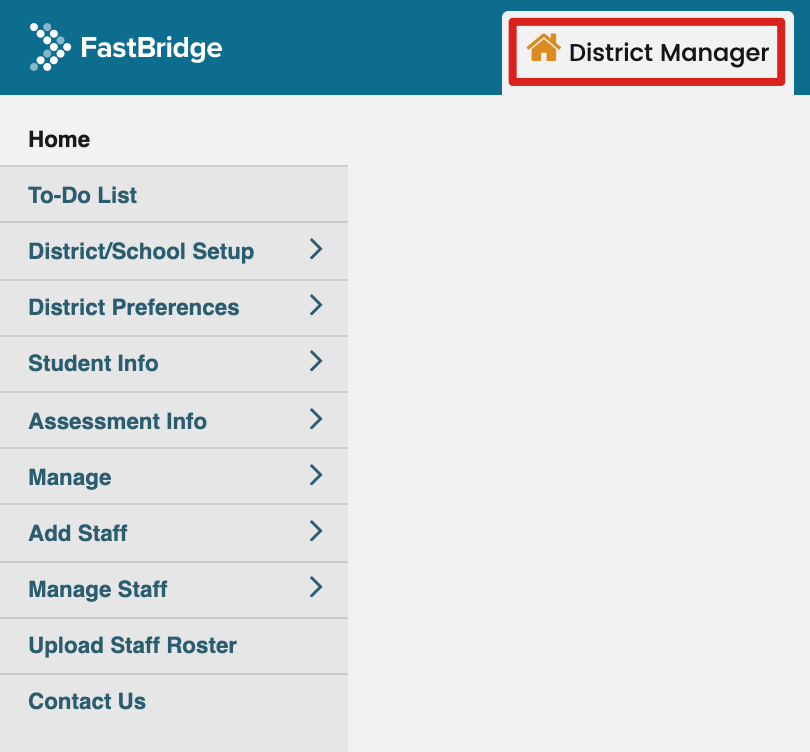 (or School Manager)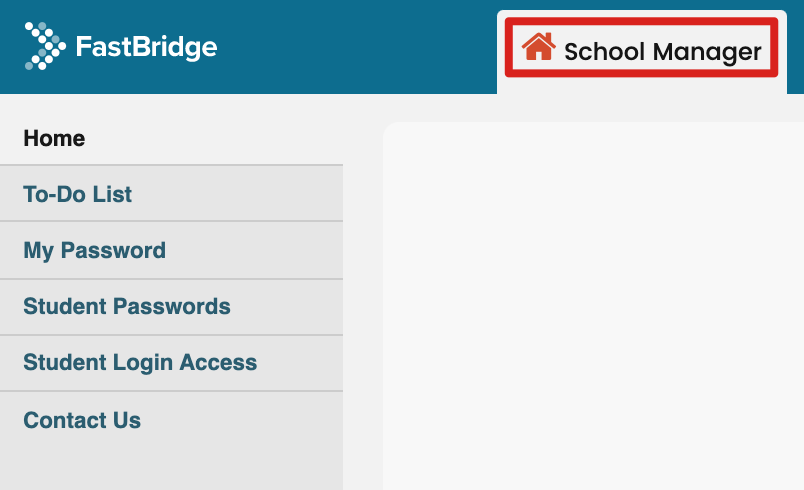 The Training & Resources tab brings you to the certification courses, as well as to links to the Downloads and Benchmarks & Norms areas. All users have access to this.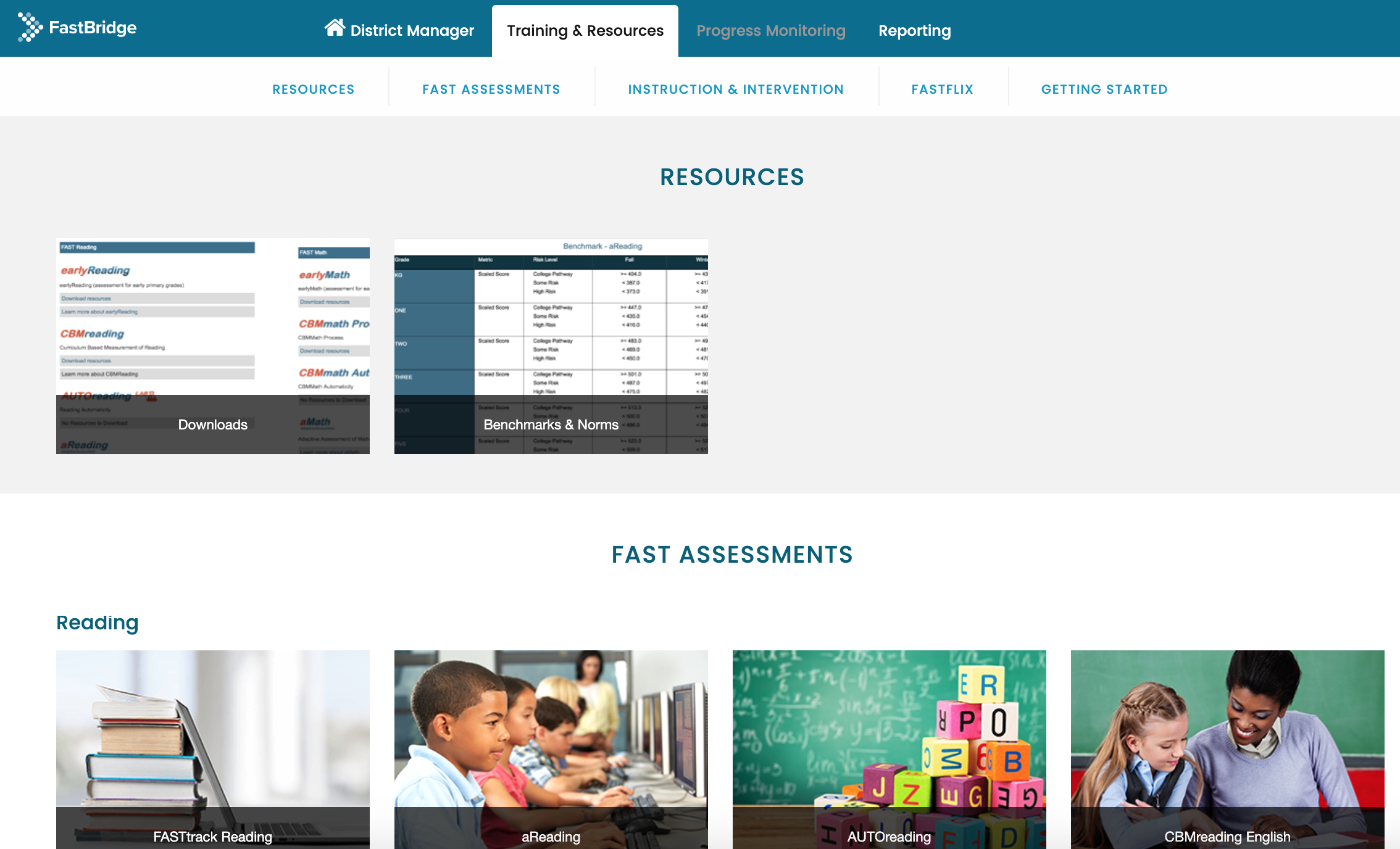 Progress Monitoring is not available from the Admin View. Notice the tab is grayed out until you switch to a Specialist or Teacher view.

  To access progress monitoring groups, you need to (1) change your view to Specialist (View As: Specialist), then (2) select the Progress Monitoring tab. In Specialist view, you will see a list of all Progress Monitoring schedules. You can also navigate all the way into a Teacher View to see the Progress Monitoring schedules for a particular teacher. For more information, see USER ROLES and VIEWS below.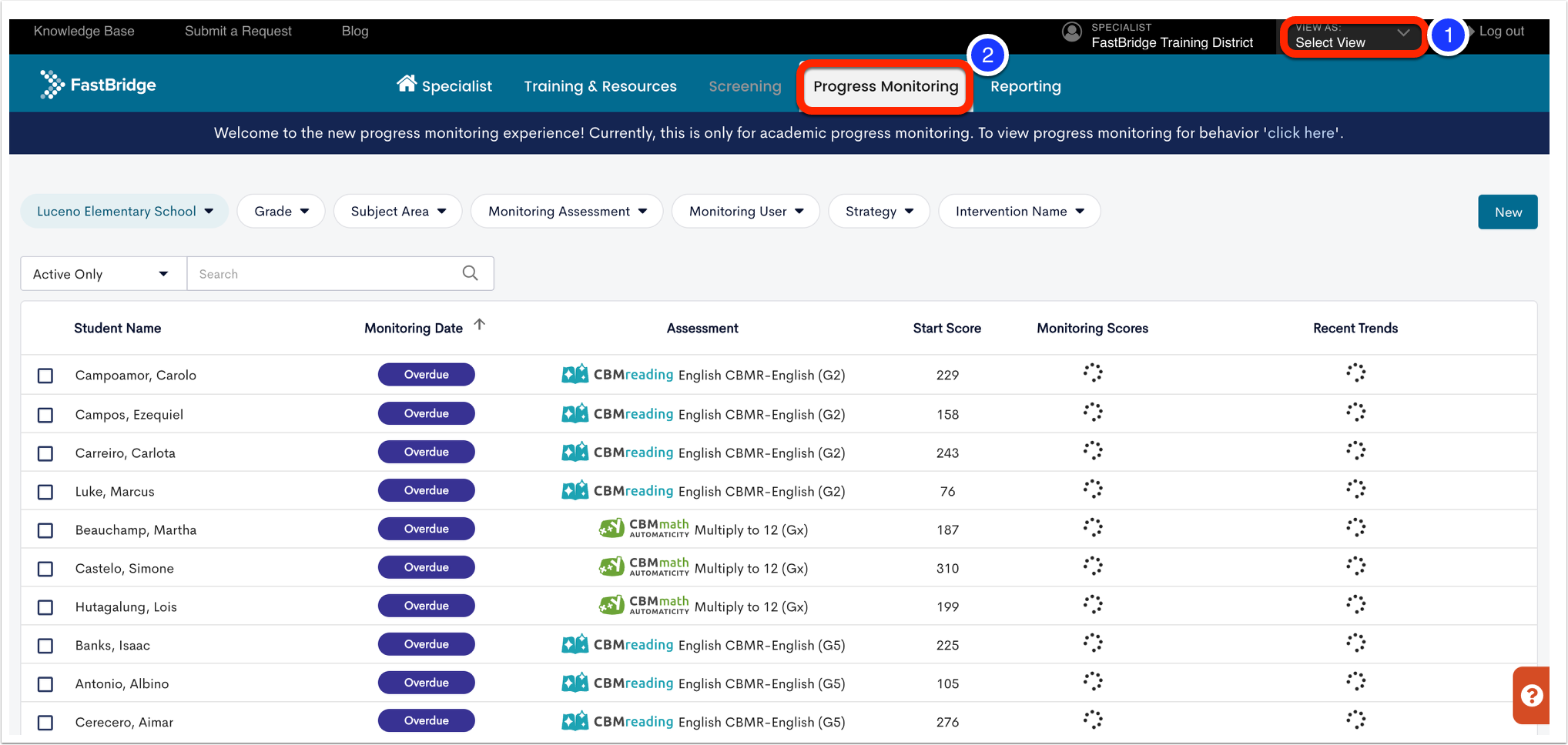 The Reporting tab brings you to your district (or school) level reports.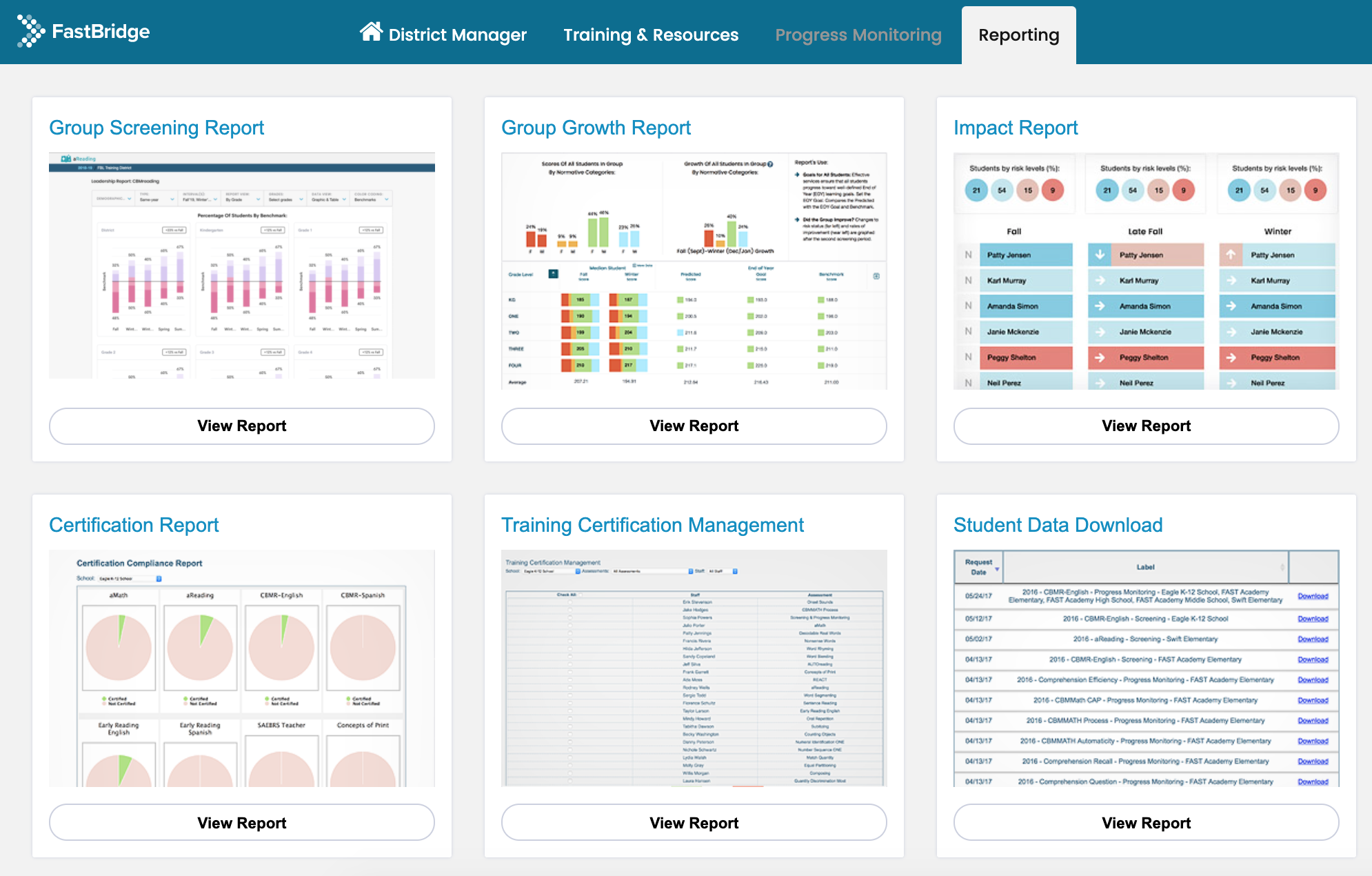 USER ROLES and VIEWS Like the User Roles themselves, each view inherits the functionality of the level below it. Managers, who are looking for access to more specific information, would first switch to Specialist View by clicking (1) "Select View", and then (2) "Specialist View".

  From Specialist View, you can (1) navigate into a Teacher View by selecting a school, grade, and teacher, and clicking "Go"; or (2) go back out to District (or School) Manager View.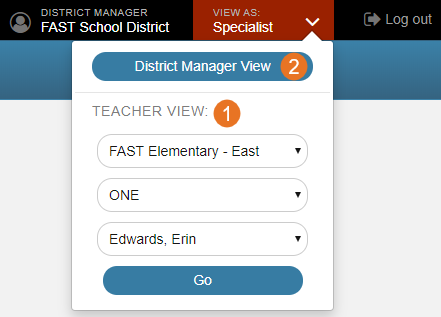 When in Teacher view, you only have access to what the selected teacher has access to; but (unlike the actual teacher) you can navigate to other teacher views from the VIEW AS: drop-down. To get to a particular student or classroom report, you need to start by getting to the correct teacher's view. All assessments and reports (other than district or school-level reports) are accessed from the Teacher view. Once you are in Teacher View, the Screening, Progress Monitoring, and Reporting tabs take you to the classroom-level options.