All districts must have the first two New School Year Setup steps completed; Setting Default Screening Periods and Assessment Setup. These steps can be completed by the Master Account Administrator or a District Manager
Commonly Accessed Articles
Rostering FAQ
Uploading a student roster roster?
The uploaded roster must be a correctly formatted comma-separated value (.csv) file. District names and School names MUST be an exact match to their listing in FastBridge™. All columns and headers MUST remain intact.
Student data is required in

Columns A-N (State-TeacherEmail) are required, with the exception of Column H (StudentStateID)

Check out Uploading a Student Roster and Roster Formatting
Need assistance with your Validation Results/errors? Reminder: rosters can be uploaded with Change Warnings, please view Troubleshooting Roster Upload Issues for more information.
Common Errors (These errors will cause lines to be omitted from the upload):
School does not exist in the district

Either the district name or the school name does not match how it is listed in FastBridge. These names must match exactly.

District does not exist in the state

The district name does not match how it is listed in FastBridge. The district name must match exactly.

Invalid input for teacher email

The Teacher ID does not match how it is listed in FastBridge for an existing teacher. Look up the classroom user account for this teacher and change either the existing ID, or the one in your upload, so they match.

You are adding a new teacher with an email address that matches the existing email address of a user already in FAST. Most likely this is an existing account for the same person. Change the email address in your upload, or change the user ID with the corresponding email address.

The field is blank.

Invalid input for TeacherID, TeacherFirstName or TeacherLastName

The field is blank. All four fields related to teachers are required.

You can not list a student in your roster without a corresponding teacher.

Student Birth Date is not valid

This error is caused by incorrect formatting of the student's birth date. Birth dates must be formatted as YYYY-MM-DD.
Staff and Student Login FAQ
Students receiving "No Active Enrollments" message
Support Help Ticket Templates
Submitting a Ticket for Student Login Issues? Please provide the following information:
Student name and ID#

Details about how the student is logging in (via FastBridge website, SSO partner, etc.)
Submitting a Ticket for Staff Login Issues? Please provide the following information:
Staff name and email address

User Role (Teacher, Specialist, Group Proctor, School Manager, District Manager)

Site (What school(s)/site(s) should staff have access to?
Screening FAQ
Knowledge Base - Assessment FAQ section
Knowledge Base - Screening and Scoring FAQ section
My students took assessments today, where can I view their scores?
Classroom User/Teacher - user will be able to view scores immediately after screening on the Screening tab and in Reports
Specialist/School Manager/District Manager - to see same day testing results, these users will need to drill down in the upper right corner and "View As" a specific teacher. While viewing as a teacher they can access scores via the Screening tab and/or Reporting tab.

Reports viewed from the Specialist level and above update nightly, users will not see same day data on the reports from those levels.
My student is on question 34 of 30 aReading/aMath, what do I do?
aReading and aMath can have up to 60 questions. aReading and aMath are adaptive tests, which means that the assessments choose subsequent questions based on previous answers. Typically, the test only needs about 30 questions to determine a student's score. In certain instances, however, the test cannot determine the score in only 30 questions. In these cases, the student will receive a red flag next to their score to indicate that additional assessment questions are needed to calculate a more accurate score. The student will have to answer up to 30 additional questions. Sometimes the test will launch immediately into additional questions. Please have the student complete the additional questions!
For more information, please see What is the flag next to a score?
Progress Monitoring FAQ
Knowledge Base - Progress Monitoring FAQ section
Accessing Progress Monitoring Data
Go to Progress Monitoring tab (Must be "Viewing As" Specialist or Teacher)
Select students, then click "PM Report"
FAST Tip: You can now view Progress Graphs for students in different grades, classes, or using different assessments!
Receiving an error message when you click into the Progress Monitoring probe?
Double check that a level was selected during setup!
Select Student > Edit Setup
Select Monitoring Schedule "Edit"
Scroll to bottom and select Level by clicking in blank box and using dropdown menu
Save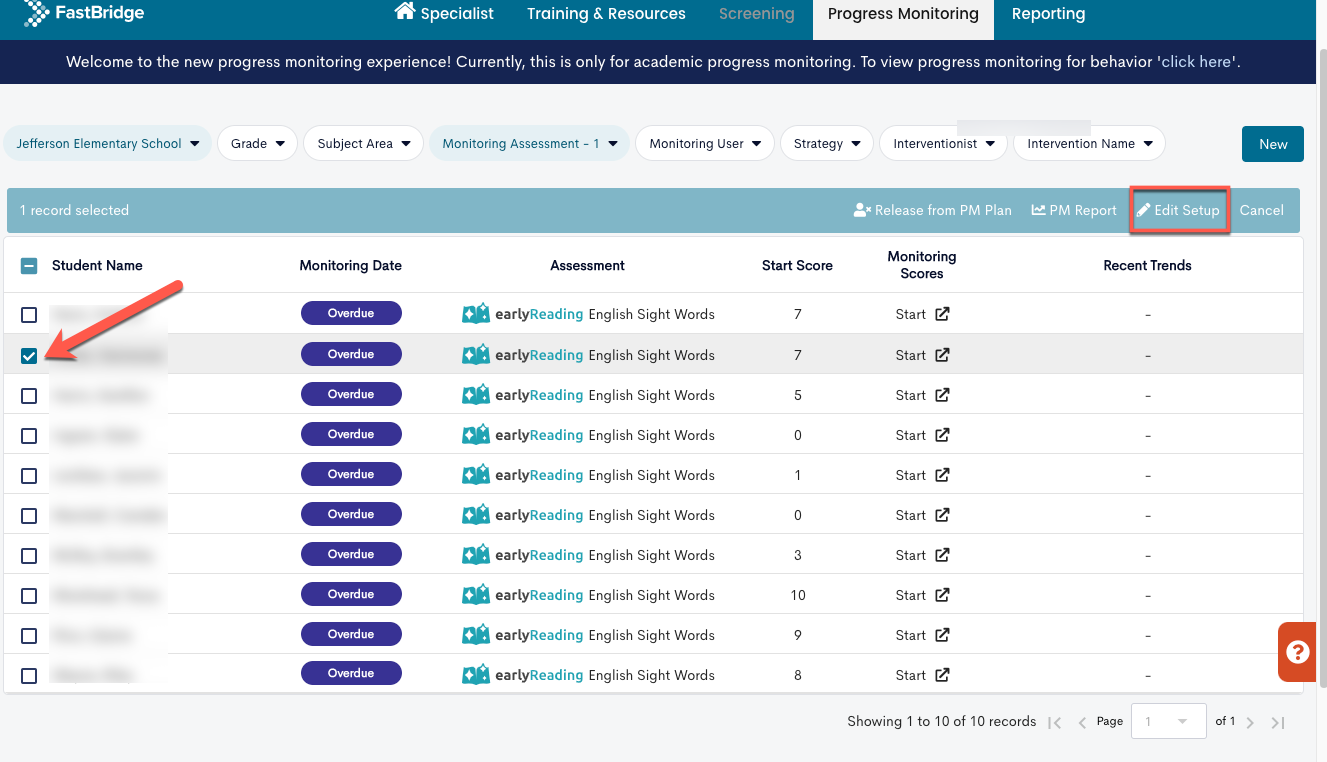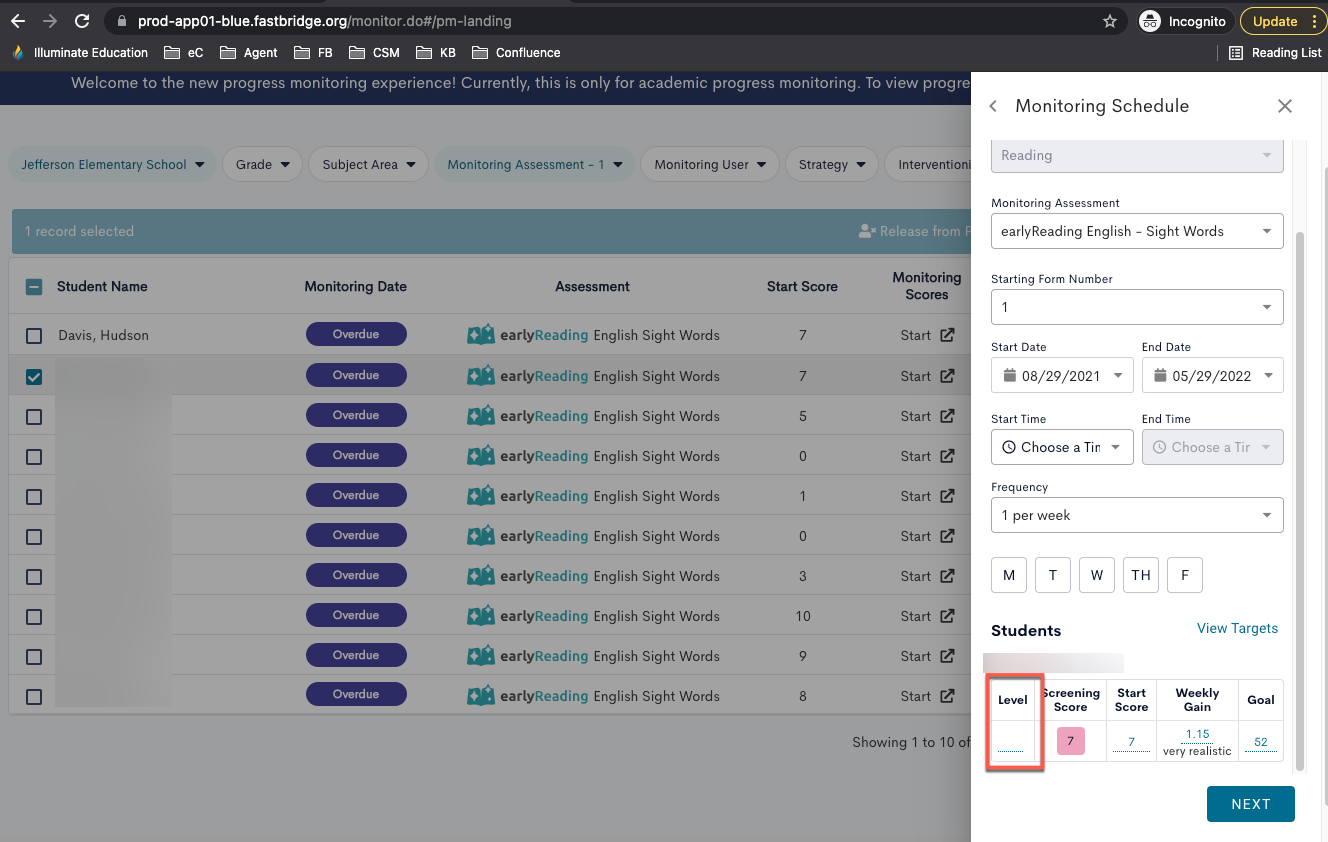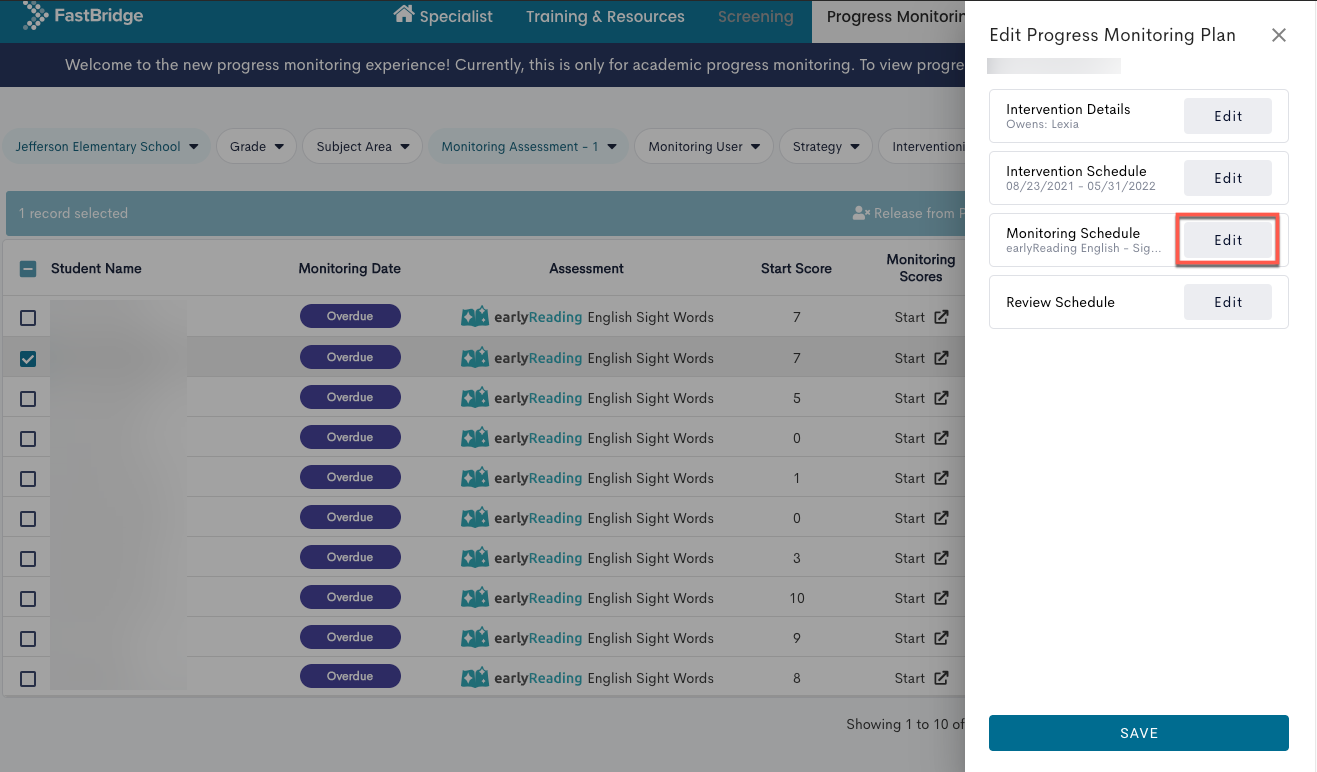 Support Help Ticket Template
Submitting a Ticket for help with Progress Monitoring? Please provide the following information:
Student name and ID#

School

Assessment
Reporting FAQ
Knowledge Base - Reporting FAQ Section
Looking for data from the previous school year?