Off-Grade Screening
Although it's possible to screen and progress monitor students using assessments below their current grade level, FastBridge recommends not doing this, except in very rare cases. This article provides information about best practices for screening and the circumstances when off-grade screening is appropriate.
Always Screen at Grade Level First
A core principle behind universal screening is to learn each student's current performance in grade-level material. The only way to do this is to have the student complete a screening assessment that includes content matched to the current grade level. For this reason, all students should be screened with assessments that match their current grade level. Importantly, FastBridge assessments are designed so that even students with skill gaps will be able to complete some of the items on the grade-level screening assessment. Specifically, both computer-adaptive assessments (CAT) and curriculum-based measures (CBM) have features that make these assessments accessible for the vast majority of students.
Computer-adaptive tests

such as aMath and aReading present items matched to student performance during the test so struggling students will get easier items in order to show the skills they have mastered, are developing, and are in the future.

Curriculum-based measures

such as CBMmath and CBMreading use general outcome measures (GOM) for screening. These GOM forms include items that cover the breadth of skills for the school year so there is likely content that most students can complete.
Additional Screenings
A very small number of students might not be able to complete any of the items on the grade-level assessment. When this is the case, FastBridge uses discontinue rules to end the assessment. This means that the student does not have to keep trying to complete tasks that he or she cannot yet do. For the teacher-administered assessments, the discontinue rules are built into the FastBridge system and display on the screen. For the assessments that students complete on a computer, there are either pause buttons or the teacher can end the assessment.
Importantly, when a student discontinues, this still provides important data about the student's learning needs because it documents that the student's skills are well below grade level.
When a student discontinues, it might make sense to conduct an additional screening with a lower-grade assessment. The decision to conduct additional screening should be based on what other data about the student's skills are available. If the teacher has other information that can inform what instruction to use, then additional assessments might not be necessary. If the teacher does not know what instruction will help the student, additional screening can be helpful. FastBridge recommends follow-up screening with the screener below the student's current grade level or at the level likely best matched to the student's current skills.
In order to screen below grade level, the desired grade must be made available in the FastBridge System by the District Manager. The manager uses the Assessment Info menu and then selects Assessment Setup. Here is what the selection screen looks like.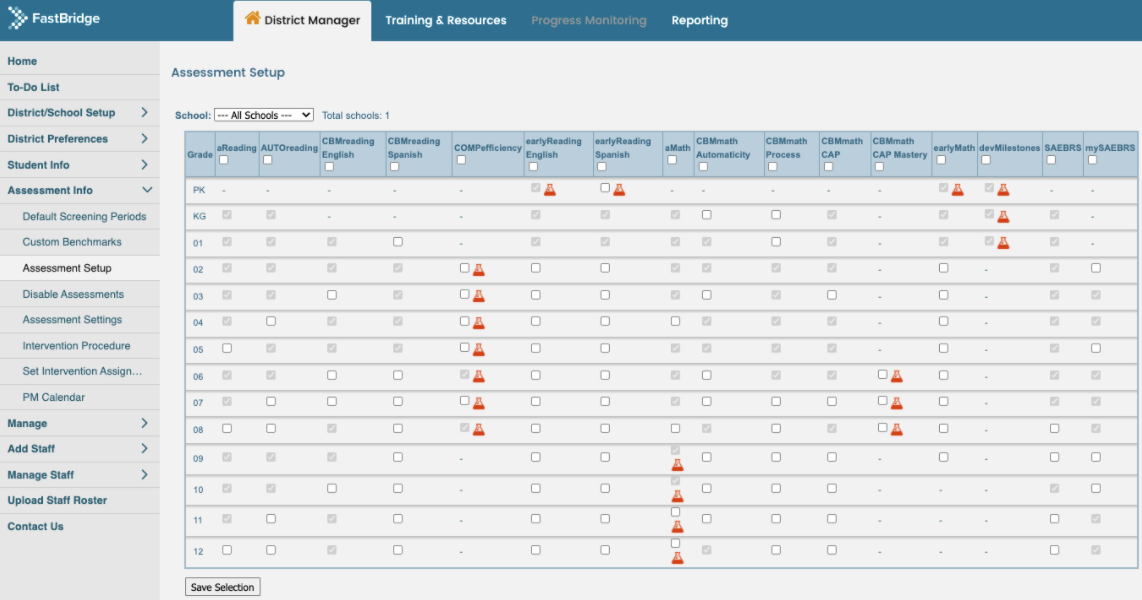 The Manager clicks on the grade level of the assessment to be made available for off-grade screening. Once the desired assessment and grade are selected, it is important to select Save Selection to save the new settings. Additional information about how to make assessments available at other grades can be found in this article.
NOTE: If the new grade for an assessment later needs to be removed, it is not done on the above screen. Instead, it is done on the Disable Assessments screen.
When a student is screened below grade level, the resulting score should be interpreted in comparison to the norms and benchmarks for that level. In other words, regardless of the student's enrolled grade level, a screening score from grade 2, should be compared to grade 2 norms and benchmarks.
What About Students with Disabilities?
It is likely that some of the students who score very low on grade-level universal screening assessments are already participating in special education and have an individualized education program (IEP). These students should always still participate in grade-level universal screening because one of the requirements for students with IEPs is to document their current level of grade-level educational performance. If a student with an IEP discontinues a FastBridge screening assessment, then additional screening to identify the current skills might be useful, but only if this information is not already available.