Schools are a fundamental setting for providing instruction to students on social and character development. The academic, emotional, and social behaviors of students can be effectively supported by educators. These skills include the ability to (1) form and maintain adult and peer relationships; (2) identify, manage, and express emotions; (3) utilize higher-order cognitive skills related to planning ahead, organization, and goal setting; and (4) understand how to function effectively within a larger social group.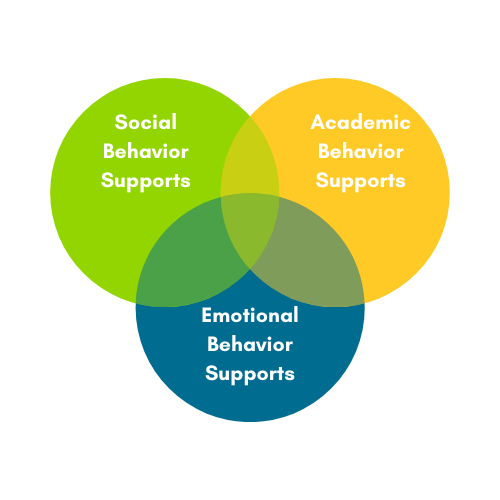 Positive Classroom Environment
Effective learning can only happen in an environment that is warm, nurturing, caring, responsive, and differentiated to the individual needs of the students.
A strong approach to positive classroom support includes:
Social Behavior Supports

Academic Behavior Supports

Emotional Behavior Supports
In each of these areas, there are specific tools, strategies, and interventions that educators can use to promote student growth and success in the classroom.
The goal of these approaches is to reduce the presence of behaviors that may interfere with effective instruction and positive behavior development and to teach the skills students to need to continue to develop.
As the figure above illustrates, these approaches are intended to be used, in combination and in concert, to create a positive and supportive classroom setting. In each of the Behavior Interventions located within the FastBridge system under the Training & Resources tab, instructions for how to use each intervention in whole group and/or small group settings are provided.