Certification Management Report Issues
Message from FastBridge: Our Engineers are aware of the inconsistencies with the Training Certification Management Report. Our product team is having discussions as to whether there is a viable fix for these issues, or if the report will need to redesigned for the future.
If you need these certifications for professional development/continuing education please have your staff members use screenshots of the screens saying 'Passed' as an alternative.
Note: While the state strongly encourages re-certification to refresh and ensure standardized administration for quality data, the system will not prevent a user from administering the assessments simply because the report doesn't show that the certification has been completed.
Numeral Identification - ONE, Certification #2
NOTE: The issue below is not an error in the certification. In the video, the student gets confused and begins saying the incorrect numbers. They should be scored accordingly.
The numbers in the student video on certification #2 do not match the numbers available on the administration scoring on the page once the student reaches the numbers above the line in the screenshot below.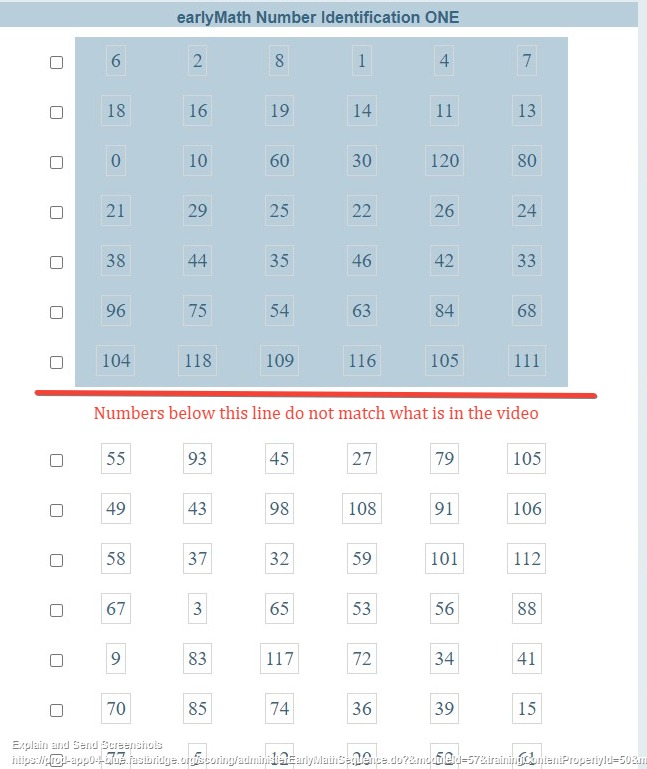 Decomposing -1 Certification
A discrepancy between Actual and Yours on the Decomposing - 1 Certification while still passing the certification is not an error, according to FastBridge.
So if you're looking at the Accuracy Goal and Actual number vs Your Accuracy and Yours number and scratching your head wondering why you got a high percentage of accuracy with a completely different number (see screenshot for example), FastBridge has explained why here:
According to the answer vector, there are 5 items that get marked as incorrect. If you take the total items available (24), and subtract the items that are incorrect (5), you get 19. The system is doing this because the test ends in a discontinuation for the student, and technically the items not being administered are not considered to be wrong.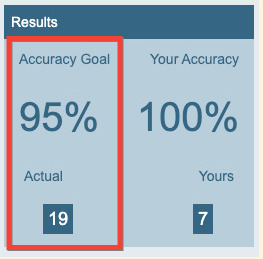 Resolved
Word Segmenting Certification
Reported as resolved 1/30/23 - Practice tests: FastBridge is investigating an issue with the scoring of items such as /b/l/og/ correctly. A four letter word where blending happens will result in a 2/4 score and a three letter word where blending happens will result in a 1/3 score.
~932307
Reported as resolved 1/30/23 - Certification Test #2: There is a known issue with the sound quality of the second certification quiz for Word Segmenting - some distortion at the beginning of the audio and background noise towards the end. It will likely have minimal impact for most users but is something to be aware of. If you're unable to understand the audio file enough to complete the certification, use certification #1 which appears to be functional.
Number Sequencing - KG Scoring Instruction Error
Fixed November 2022 - FastBridge has updated the language as shown below.