This article guides users through the process of creating FastBridge instructional staff and non-instructional staff users with a FastBridge-Clever Integration.
Overview
Who are staff users in Clever? Staff is the term Clever uses to refer to both non-instructional staff (e.g. administrative assistants, counselors) and instructional staff, those not directly in charge of a classroom (e.g. Reading Specialists, Interventionists, School Psychologists, and Principals). Staff members in Clever are non-instructional or instructional staff at the district or school, or employees who do not have a classroom roster in the SIS. Learn more here.
Adding these staff members to Clever allows Admin to share the benefits of the Clever Portal and SSO with all users in the district. Learn more here.
Uploading and sharing staff into Clever is a requirement to successfully set up FastBridge via Clever. Once set up in Clever, Admin will map district and school staff to a FastBridge user role; District Manager, School Manager, Specialist, or Group Proctor in the FastBridge site.
Before You Begin
Begin at Step 1, if staff members are not listed in Clever. If a district is sending staff as teachers, it is necessary to switch to the staff-syncing options in Clever and follow these steps.
Begin at Step 4, if instructional / non-instructional staff are already listed in Clever as "staff'.
1. Choose a Staff Syncing Option

Select Custom Data.
Open the Add Custom Data dropdown menu.
Select Staff.
Select Upload Records.
2. Include Required FastBridge Data Fields in the Staff.csv File

Staff Title is required to map each non-teaching staff member to a FastBridge user role. Download the template here. The title should reflect the staff member's school role Staff who need FastBridge access at multiple schools and must be listed in separate rows with the unique school id for each row. Above is an example of how to populate the required FastBridge & Clever fields successfully.
3. Upload Staff

Use the Manual upload option to upload the staff.csv file. If the district syncs data to Clever through the SFTP Sync, they can upload staff members via SFTP by including the staff.csv file in the upload method.
4. Map Users within FastBridge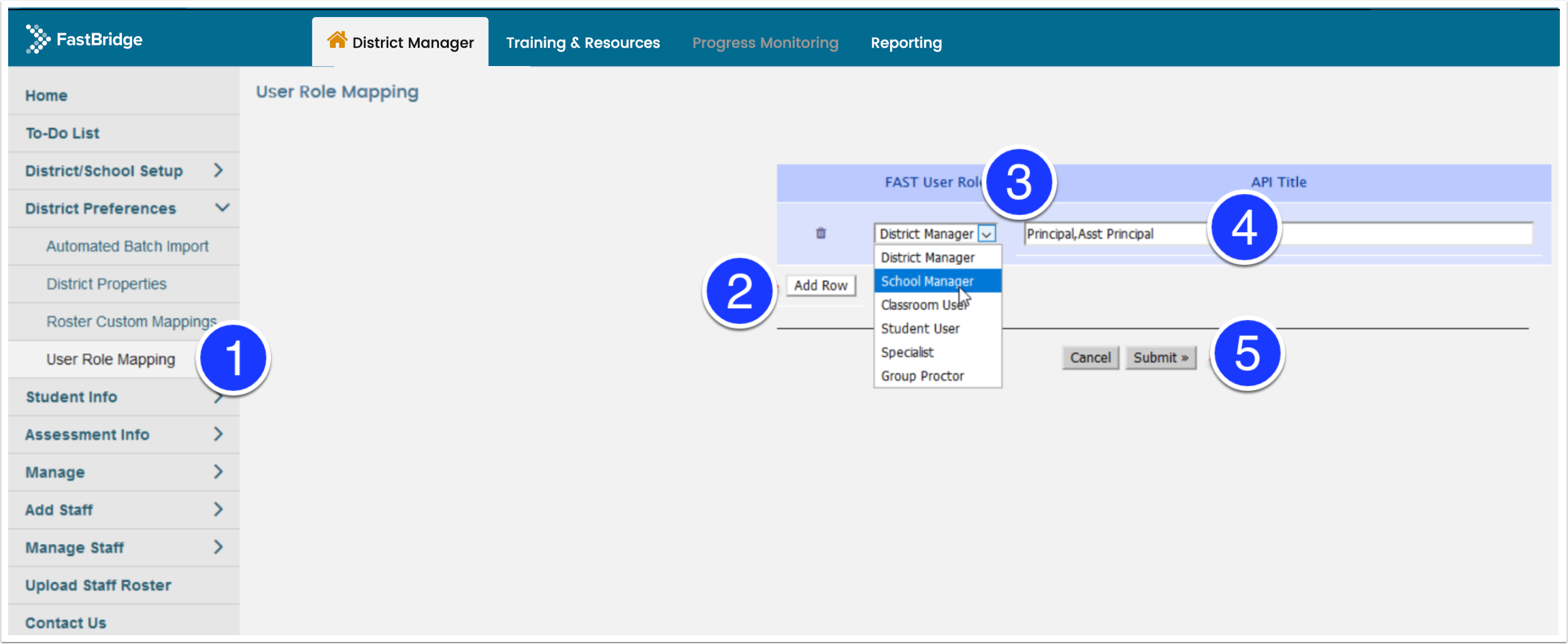 In FastBridge, map user titles provided to Clever from the staff.csv file to the FastBridge account types, School Manager, Specialist, or Group Proctor. The nightly sync will capture the shared non-teaching staff.
Access District Preferences and select User Role Mapping.
Select Add Row.
Select a FastBridge User Role from the drop-down.
Enter the Clever "Staff Title" to be mapped to the selected FastBridge user role.

Separate multiple titles using commas (no spaces) or by selecting "Add Row" to select and map another FastBridge User Role.
It is recommended to list two to three titles per row. There are no limits to the amount of rows added in this section

Select Submit.